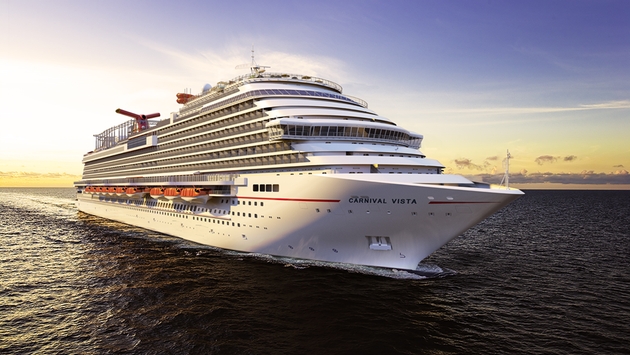 Carnival Cruise Line's new 133,500-ton Carnival Vista will operate six- and eight-day Caribbean cruises year-round from Miami starting in December 2016.
The announcement settles speculation about the year-round homeport and itineraries for what will be Carnival's biggest ship. Word leaked out last week that the ship was bound for Miami, but now exact itineraries are revealed, along with other ship repositionings.
The Carnival Breeze and Carnival Liberty will replace Carnival Magic and Carnival Triumph, respectively, in Galveston in 2016, joining Carnival Freedom, which arrives in Galveston on Feb. 14. Details on new homeports for Carnival Magic and Triumph, as well as year-round departures from San Juan, will be revealed in coming weeks.
Carnival Vista will kick off its schedule from PortMiami with a four-day cruise to Grand Turk departing Nov. 29, 2016. The ship then will launch year-round six- and eight-day cruises beginning with an eight-day voyage departing Dec. 3, 2016.
Six-day cruises will visit Ocho Rios, Grand Cayman and Cozumel, while a mix of different eight-day itineraries visit a number of Caribbean ports of call, including Aruba, Curaçao, Bonaire, Grand Turk, San Juan, St. Kitts, St. Maarten and La Romana, Dominican Republic.
Currently under construction at the Fincantieri shipyard in Italy, the Carnival Vista will introduce ground-breaking features such as a suspended open-air cycling experience, the world's first IMAX Theater on a ship, a water tube slide, and an onboard brewery in the RedFrog Pub. The ship also will feature family accommodations with a family concierge and lounge, a Seafood Shack serving lobster rolls and crab cakes, and outdoor dining at the Fahrenheit 555 steakhouse, Bonsai Sushi and Cherry On Top with a new premium ice cream bar.
Carnival Vista will enter service in May with a summer of Mediterranean cruises before sailing to New York for several cruises before moving to Miami.
Meanwhile, in Galveston, Carnival Liberty will launch year-round four- and five-day cruises to Mexico beginning March 21, 2016. Four-day "long weekend" cruises depart Thursdays and stop at Cozumel, while five-day voyages depart Mondays and Saturdays visiting Cozumel and Progreso.
Carnival Breeze, currently the line's newest ship, will offer three week-long itineraries beginning Dec. 11, 2016. Western Caribbean voyages call at either Montego Bay, Grand Cayman and Cozumel or Belize, Mahogany Bay (Isla Roatan) and Cozumel. A Bahamas/Florida route includes Nassau, Freeport, and Key West.
Before their new deployments, Carnival Liberty and Carnival Breeze will each operate a 12-day cruise. Carnival Liberty will cruise from San Juan to Galveston March 6-18, 2016, calling at St. Thomas, Barbados, Tobago, Grenada, Aruba and Grand Cayman. Carnival Breeze will depart Miami Nov. 27, 2016, and arrive in Galveston Dec. 9, 2016, after visiting St. Maarten, St. Lucia, Curaçao, Aruba and Cozumel.
Source: Theresa Norton Masek (Travel Pulse, February 12, 2015)
Re-posted on CruiseCrazies.com - Cruise News, Articles, Forums, Packing List, Ship Tracker, and more.
Please visit CruiseCrazies.com for more cruise news & articles.
Featured photo credit: Carnival Cruise Lines