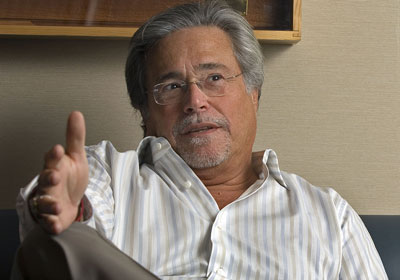 Carnival Corp. & plc Chairman and CEO Micky Arison says he's been talking with his board about splitting the two top corporate roles "for quite some time" and will remain active with the company despite relinquishing the CEO position to Arnold W. Donald, a board member for 12 years, effective July 3. "I am not going anywhere," Arison, 63, told analysts during a conference call to discuss second-quarter earnings. "I will remain as chairman and plan to remain chairman for the foreseeable future."
Arison said he has been sensitive to U.K. management practices, which usually split the chairman and CEO roles. "I have decided, and the board agreed, it is a good time to split the role," he said. "Even in the U.S., it's starting to move in this direction."
In his new role, Arison said he "will do whatever Arnold needs me to do … anything I can do to make help Arnold become hugely successful in the company." He said he anticipated continuing to work in areas in which he has experience, such as newbuilding. "I'm looking to Arnold to run the day-to-day corporate operation, and I may even take a couple of golf lessons," he joked. Arison also owns the Miami Heat professional basketball team, which just celebrated its NBA championship.
Donald said his first plan is to spend in-depth time with the company leadership team, noting that Arison and COO Howard Frank have built the "largest, most successful leisure travel company in the world." He also said he is familiar with the company and its executives from his role as a board member.
Arison said he recommended Donald for the CEO position. "We did not hire consultants to do a full external search," he said. "I recommended Arnold as a choice, and the committee immediately supported that as did the independent directors. We felt we had the right candidate and there was no need to go beyond that. … We did not know if it was something he would entertain … but we're very pleased he's agreed to take on this role."
Executives also elaborated on booking patterns and a new initiative to improve Carnival Cruise Lines' relationship with travel agents. Frank also made a point to thank the travel agent community for their support following the Carnival Triumph incident, which generated negative publicity after it lost power in the Gulf of Mexico for a few days in February. "Travel agents know Carnival provides great vacations to a wide spectrum of consumers … at very affordable prices," he said. "Many travel agents have been very supportive, and we are grateful."
A day earlier, Carnival Cruise Lines announced a new initiative to improve its communications and relationship with travel agents. Frank said that effort will include co-op marketing, trade advertising, more social media and web-based marketing, and more TV advertising.
Frank said Carnival Cruise lines pricing and occupancy have been lower year-over-year, but that there has been "a gradual improvement" over the last six weeks. "We are hopeful this trend will continue," especially since the Carnival Triumph was successfully reintroduced in Galveston on June 13. "We are confident that as time passes this brand will come back stronger than ever," Frank said, although it will likely take two or three years until the line can show positive price comparisons again.
He also said Costa "continues to trend in a positive direction" since the January 2012 Concordia tragedy. "It appears the Costa recovery is well under way," he added.
By Theresa Norton Masek, Travel Pulse
For more cruise news & articles go to http://www.cruisecrazies.com/index.html
Re-posted on CruiseCrazies.com - Cruise News, Articles, Forums, Packing List, Ship Tracker, and more