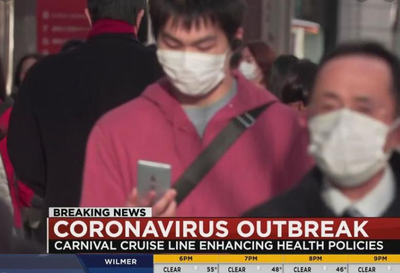 MOBILE, Ala. (WALA)-- For the first time in over 50 years the CDC has issued a quarantine order as concern over the deadly coronavirus continues to mount.
The federal government has declared the virus a public health emergency for the U.S. and the state department has warned Americans not to travel to China. 
Concerns over the coronavirus spreading in the U.S. is now pushing travel companies around the nation and in the Port City to make changes in their efforts to keep the disease at bay.
On Friday, Delta, American and United Airlines announced suspensions on their flights to China.
Meanwhile Carnival Cruise line has implemented additional health policies.
A Carnival representative tells FOX10 this includes pre-boarding health screenings and medical evaluations along with temperature readings for anyone with a fever or other respiratory symptoms.
The Carnival Fantasy left port on Thursday, but we're told for upcoming cruises anyone who has traveled to China within the past 14 days will not be cleared to board.
Representatives say the risk to their ships around the world is low, but they're keeping a close eye on it.
The next cruise leaves Mobile on Monday.
As people travel in and out of Mobile, county health experts ask doctors to be vigilant of any sick patients who have traveled recently, especially those who have traveled anywhere near Wuhan, China, the epicenter of the coronavirus outbreak.
"We want to get them tested right away to either rule out their infection as being related to this new coronavirus or if it does happen to be the coronavirus, get them isolated and start doing that investigation that we need to do of anyone that they've been around to protect them," said Dr. Rendi Murphree with the Mobile County Health Department. 
Right now there is no vaccine to treat  the coronavirus.
By Marella Porter, FOX 10 News
Re-posted on CruiseCrazies.com - Cruise News, Articles, Forums, Packing List, Ship Tracker, and more
For more cruise news and articles go to https://www.cruisecrazies.com