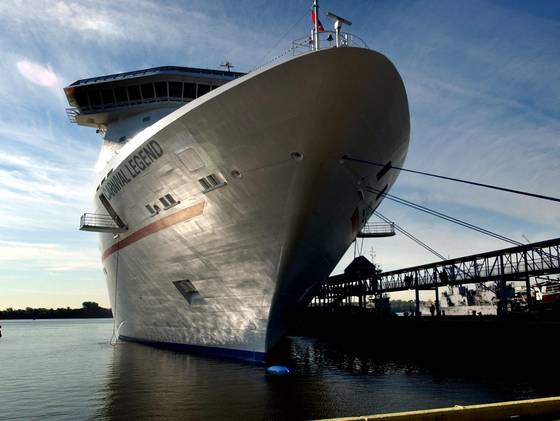 In yet another sign that cruise lines are struggling to fill ships in Europe, industry giant Carnival this week announced a last-minute cutback to its 2013 schedule in the region.
The world's largest cruise line canceled five long sailings in the Mediterranean scheduled to take place on the 2,124-passenger Carnival Legend between late September and early December, and said the ship instead will return to the Caribbean earlier than scheduled.
The canceled voyages were the departures scheduled for Sept. 25, Oct. 7 and 31, and Nov. 12 and 27, 2013. In lieu of the trips, the Carnival Legend will operate:
- A 15-day trans-Atlantic crossing from Dover, England to New York starting Sept. 25. The ship will call at Dublin; Glasgow (Greenock), Scotland; Belfast (Northern Ireland); Reykjavik, Iceland; Qaqortoq, Greenland; and St. John's, Newfoundland, Canada before arriving in New York Oct. 10.
- An 11-day Caribbean voyage from New York to Tampa starting Oct. 10 that features stops at Grand Turk; Aruba; Curacao; Ocho Rios, Jamaica; and Grand Cayman.
- A five-day Western Caribbean cruise beginning and ending in Tampa that kicks off Oct. 21. The ship will stop at Grand Cayman and Cozumel.
- An eight-day Caribbean sailing out of Tampa departing Oct. 26 that includes calls at Grand Cayman, Mahogany Bay (Roatan), Belize and Costa Maya.
From Nov. 3, the Carnival Legend will operate seven-day Caribbean sailings out of Tampa.
Carnival says the itineraries for a second ship scheduled to be in Europe in 2013, the Carnival Sunshine, remain unchanged.
Passengers on the five canceled Carnival Legend cruises can switch to any other Carnival cruise in Europe in 2013 and will receive a shipboard credit of $200 per cabin, the line says. They also can opt for a full refund or a credit for a future Carnival trip.
By Gene Sloan, USA Today