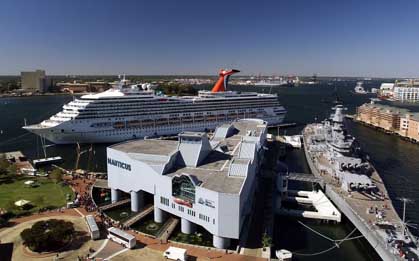 Carnival Cruise Lines is saying bon voyage to Norfolk.
The company said Thursday it is moving the Carnival Glory to Miami beginning in November. It was the cruise line's only ship seasonally homeported in Norfolk.
Carnival will not to deploy the Carnival Glory or another Carnival ship from Norfolk in 2014, a spokesman told The Virginian-Pilot.
The company says it routinely evaluates the performance of all of its itineraries and makes adjustments as needed to reflect the preferences of its guests and overall financial performance.
Carnival cited 2015 environmental requirements related to the sulfur content in the fuel used by cruise ships as a key factor in its decision.
The requirements "would significantly impact our fuel costs for operating cruises from Norfolk and many other ports around North America," Vance Gulliksen, a Carnival spokesman, told the newspaper in an email.
Hank Lynch, executive director of Nauticus, said he expects Carnival to reconsider Norfolk once it develops more fuel-efficient technology or if the Environmental Protection Agency decides to soften its new regulation.
As it is, the EPA has "cost people their jobs and they've denied the East Coast of the United States, especially from the Mid-Atlantic all the up to New England, opportunities to go cruising," Lynch said.
Also on Thursday, Carnival announced that it would move the Pride, a 2,124-passenger ship, from Baltimore to Tampa in November 2014. Carnival had warned Maryland officials that it would relocate the Pride if the Environmental Protection Agency did not approve its plan for complying with pollution-control regulations, the Baltimore Sun reported.
Gulliksen said the company is keeping the door open on the possibility of returning to Norfolk at some point, calling its cruise program from Norfolk very successful.
"We will evaluate all viable options to return to Norfolk in the future," Gulliksen said.
Source: Associated Press
For more cruise news & articles go to http://www.cruisecrazies.com/index.html
Re-posted on CruiseCrazies.com - Cruise News, Articles, Forums, Packing List, Ship Tracker, and more