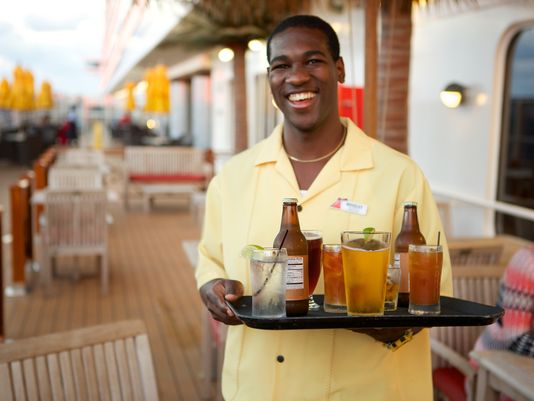 Carnival Cruise Lines is boosting the gratuity amount it suggests passengers give crew as tips.
The line is raising the amount by 50 cents, from $11.50 to $12 per passenger, per day, effective Oct. 9. The gratuities are automatically added to passengers' shipboard accounts — though there is the option of increasing or decreasing the amount at the purser's desk.
"This marks the first time in nearly three years that Carnival has increased its recommended gratuities guidelines and places Carnival's recommended gratuities in line with other major cruise operators," the cruise line said in a statement.
The tips are divided among crew including housekeepers and waiters. Gratuities make up an important part of their compensation.
Royal Caribbean, Norwegian Cruise Line and MSC Cruises (in the Caribbean) are among lines suggesting tips of $12 per day. Holland America Line and Princess Cruises, both owned by Carnival Corp., continue to suggest $11.50 as the standard gratuity.
Carnival passengers who pre-paid their gratuities as of July 7 will not be impacted by the increase, the line said.
By Fran Golden, Special for USA TODAY
For more cruise news & articles go to http://www.cruisecrazies.com/index.html
Re-posted on CruiseCrazies.com - Cruise News, Articles, Forums, Packing List, Ship Tracker, and more