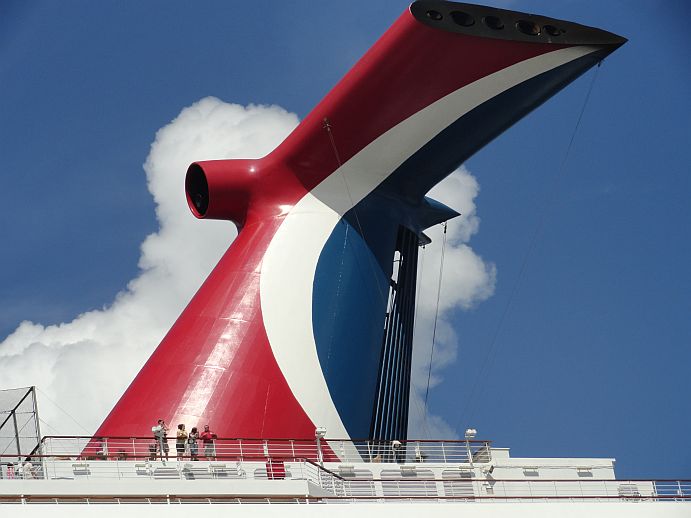 Carnival Corp warned it could report an adjusted loss for the current quarter, after posting a 30 percent fall in third-quarter profit due to a series of headline-grabbing mishaps on its cruise ships.
Shares of the world's largest cruise operator fell as much as 8 percent in morning trading.
The company, which operates the Carnival, Holland America and Costa cruise lines, said it expects adjusted per-share results for the current quarter to be in the range of a loss of 3 cents to a profit of 3 cents. Analysts on average were expecting earnings of 9 cents per share.
Carnival also said it expects fourth-quarter net revenue yields, which blend ticket sales and money spent onboard, to fall 3 to 4 percent on a constant currency basis.
Morningstar analyst Jamie Katz called the outlook disappointing and said investors were expecting the company to lap comparable year-over-year numbers after two really weak booking seasons.
"What the commentary indicates to us is that that's not the case," the analyst said.
Katz said the company may be losing share to competitors such as Royal Caribbean Cruises and Norwegian Cruise Line Holdings, or customers may be looking for better deals.
A spate of mishaps on the company's cruise ships that started in spring has dented demand for Carnival's vacation cruises and slashed revenue per cabin.
In March, the company cut short a Caribbean cruise after an engine problem idled its Carnival Dream ship in St. Maarten. A month earlier, its Carnival Triumph was adrift for days in the Gulf of Mexico following an engine fire, and passengers described an overpowering stench as toilets overflowed.
Net ticket yields fell 4.6 percent in the third quarter while yields from onboard entertainment fell about 1 percent, Chief Financial Officer David Bernstein said on a post-earnings conference call. Net revenue yields, a blend of the two, was down 3.8 percent on a constant currency basis.
Excluding Carnival fleet, cumulative occupancies for the fourth quarter are lower despite prices being kept at last year's levels, Chief Operating Officer Howard Frank said.
"Carnival Cruise Lines occupancy for the fourth quarter are lower at lower prices," he added. The company's Carnival cruise lines represent about 30 percent of the company's fleet of over 100 ships.
Carnival Corp reported net income of $934 million, or $1.20 per share, for the quarter ended Aug. 31, down from $1.33 billion, or $1.71 per share, a year earlier.
Excluding one-time items, the company earned $1.38 per share and topped analysts' expectations by 8 cents, helped by lower non-fuel cruise costs and the timing of advertising expenses.
Revenue rose marginally to $4.73 billion and beat Wall Street's expectations of $4.65 billion, according to Thomson Reuters I/B/E/S.
Carnival's shares were trading at $34.86, down 6.8 percent, in midday trading on the New York Stock Exchange on Tuesday.
By Reuters
For more cruise news & articles go to http://www.cruisecrazies.com/index.html
Re-posted on CruiseCrazies.com - Cruise News, Articles, Forums, Packing List, Ship Tracker, and more