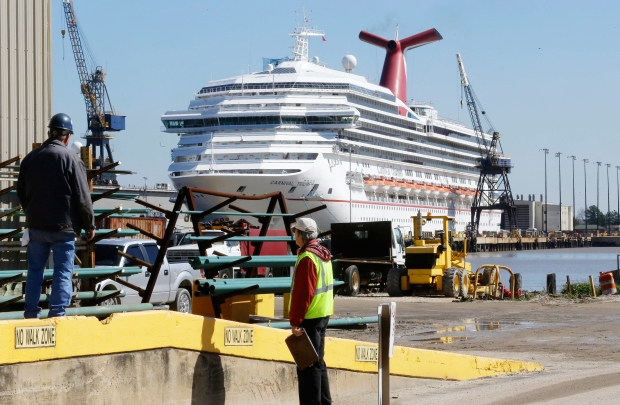 Cruise giant Carnival is suing the Alabama shipyard that took in the Carnival Triumph earlier this year after it lost power at sea, Mobile's Press-Register reports.
The Press-Register says Carnival is blaming Mobile's BAE Systems shipyard and several related entities for what it says is more than $12 million worth of damage that occurred to the vessel during a storm that swept across the facility.
The Carnival Triumph broke free from its moorings at the shipyard during the April 3 storm, which was accompanied by wind gusts approaching 70 miles per hour. The ship drifted in the Mobile River before hitting another vessel, and damage to the Carnival Triumph included a noticeable 20-foot-long gash across its stern.
In its complaint, Carnival calls the moorings at the shipyard defective, the Press-Register says.
The suit also names Bernadette Johnson, the widow of a shipyard employee who died during the storm, according to the news outlet.
The BAE Systems shipyard took in the Carnival Triumph for repairs in the wake of the Feb. 10 engine room fire that knocked out the vessel's main power and left it dead in the water. During the incident, the ship's emergency backup power system kicked in but was inadequate to provide passengers with basic services including working toilets, elevators, air conditioning and lighting in many areas, and passengers reported miserable conditions on board for several days. The ship eventually was towed to Mobile.
The Press-Register says the widow who was named in Carnival's lawsuit had sued Carnival in May. The widow's late husband, John Johnson, was swept into the water during the storm and drowned.
In statements to the media at the time of the storm, Carnival referred to the damage to the Carnival Triumph as "limited."
By Gene Sloan, USA Today
For more cruise news & articles go to http://www.cruisecrazies.com/index.html
Re-posted on CruiseCrazies.com - Cruise News, Articles, Forums, Packing List, Ship Tracker, and more