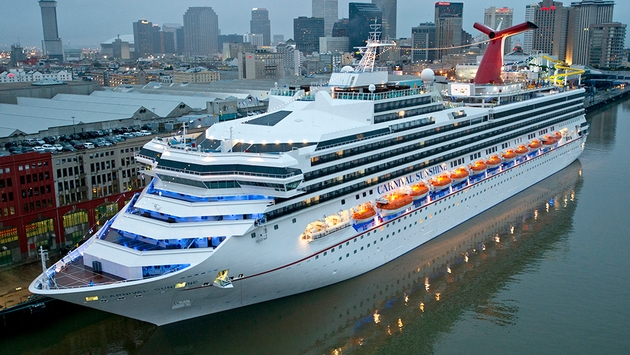 Carnival Cruise Lines is all set to bring its Fun Ship 2.0 features and amenities to travelers across the East Coast in 2016.
The cruise line announced on Monday that it will offer 20 voyages ranging from two to 10 days from New York aboard the Carnival Sunshine from June 2016 to October 2016. Carnival also announced a series of sailings aboard the Carnival Sunshine from ports in Charleston, South Carolina and Norfolk, Virginia, during the summer and fall of 2016.
The announcement is significant in that it marks the first time a "Fun Ship 2.0-equipped ship" will offer voyages to so many different destinations from New York.
The Carnival Sunshine will operate eight different voyages from New York spanning two to nine days, and four different cruises from Charleston and Norfolk each. The longest cruise offered is a 10-day sailing from Charleston to the Caribbean departing on May 30, 2016.
"Carnival Sunshine has an extraordinary array of guest features and facilities and will provide consumers and our valued travel agent partners with a wide range of itinerary choices from these highly attractive East Coast homeports," said Carnival president Christine Duffy in a statement.
The 3,000-guest Carnival Sunshine will replace the Carnival Splendor on departures from New York and Norfolk. The latter will operate a series of cruises from those ports in 2015.
Following voyages from New York, Charleston and Norfolk, the Carnival Sunshine will return to its home port of Port Canaveral where it will sail eight different Caribbean voyages in the winter of 2016 and spring of 2017.
Carnival Sunshine recently received a $155 million makeover and boasts an adults-only retreat that includes a pool and waterfall. Plus, the vessel features a variety of dining options, a waterpark and an outdoor recreation area as well as unique bars.
A Cloud 9 Spa and comedy club are among the other onboard highlights.
According to a press release from the cruise line, three Carnival Sunshine voyages, including the nine-day voyage departing Aug. 25, 2016 from New York, "are part of the line's recently announced Carnival Journeys series that feature exceptional ports and unique on-board experiences showcasing local cuisine, entertainment and cultural opportunities."
Source: Patrick Clarke (TravelPulse, "Carnival Sunshine Headed to the East Coast in 2016")
Re-posted on CruiseCrazies.com - Cruise News, Articles, Forums, Packing List, Ship Tracker, and more.
Please visit CruiseCrazies.com for more cruise news & articles.
Featured photo credit: TravelPulse