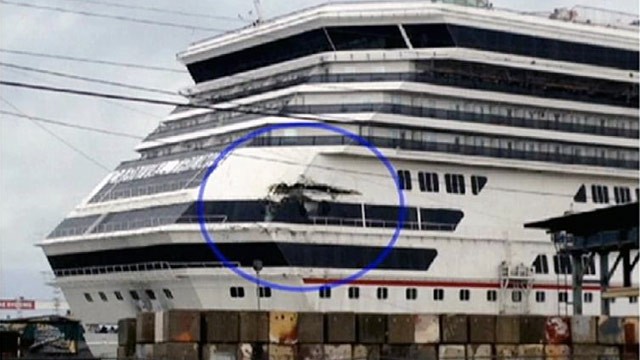 The Carnival Triumph has broken away from its moorings at a shipyard in Mobile, Ala.
The cruise line said the ship drifted and was resting against a cargo vessel.
Tug boats and the U.S. Coast Guard were on site, the cruise line said.
Carnival blamed the breakaway on high winds in the area. Wind gusts reached 80 miles per hour in Mobile on Thursday.
Two security guards, employees of the shipyard, went into the water when their guard shack blew into the water during the high winds, ABC News Radio reported. One guard was found and one was still missing.
It did not appear anyone was on board at the time the ship broke away. There were no immediately reported injuries.
The Triumph was towed to Mobile after losing power during a round-trip cruise from Galveston, Texas, to Cozumel, Mexico, in February, stranding 4,000 people at sea for five days. A fire broke out in its engine room, disabling the vessel's propulsion system and knocking out much of its power.
The ship was taken out of service and was expected to sail again on June 3.
By Matt Gutman and Genevieve Shaw Brown
For more cruise news & articles go to http://www.cruisecrazies.com/index.html
Re-posted on CruiseCrazies.com - Cruise News, Articles, Forums, Packing List, Ship Tracker, and more