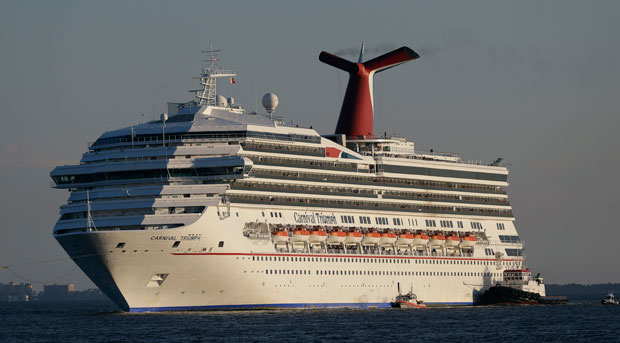 Travel agents and industry analysts agree that while cruise pricing is down at Carnival Cruise Lines in the fallout of February's engine room fire on the Carnival Triumph, other lines are maintaining - and in some cases increasing - their fare levels.
According to a report last week in Travel Weekly, a Jeffries International analyst said that cruise pricing fell overall in March because of declines among the Carnival Corp. brands.
The report found that for cruises in the next few months, prices are 2.1% lower than they were at this time last year. An 8.9% drop in pricing at Carnival Corp. is offsetting price increases of more than 7% at Royal Caribbean and Norwegian Cruise Line.
In March, Carnival Corp. chairman Micky Arison told analysts that bookings at Carnival Cruise Lines, which declined by double digits in the days after the Triumph fire, had rebounded significantly, thanks in part to price promotions.
Travel agents said that those promotions were continuing at Carnival, but that the other lines had mostly managed to avoid them.
"It used to be that 'as goes Carnival, so goes the rest of the contemporary market,' but now it's to a much lesser degree," said Kevin Weisner, vice president of CruiseDeals. Weisner said that while Carnival pricing can "create a drag" on lines like Norwegian and Royal Caribbean, those companies have more of their fleet in Europe where they source locally.
"Carnival remains primarily a domestic brand drawing from a U.S. population that's been witness to their media exposure," he explained.
Jill Rosenberg, manager of group and executive services for AAA Travel in Garden City, N.Y., said that Royal Caribbean and Norwegian were avoiding price-dropping by offering onboard amenities and cabin upgrades rather than discounts. And Joe McClure, president and co-owner of Montrose Travel, said his agency had noticed "only minor price modification for competing cruise lines, but nowhere near the level of discounting Carnival has been forced to make."
"Our customers are willing to spend a bit more to sail on competing products based on Carnival's press as of late," he added.
McClure and other agents also said that customers already booked on Carnival were seeing prices on those cruises go down later.
Rosenberg said that her agents were continually monitoring Carnival pricing to ensure their clients already booked were able to get the lower prices now being offered.
She noted that soft pricing at Carnival was also bringing out the line's die-hard fans.
"We have a lot of loyal Carnival cruisers that always had a positive experience," she said. "We have clients calling and saying the prices are great, let's look at Carnival."
By Johanna Jainchill, special for USA TODAY
For more cruise news & articles go to http://www.cruisecrazies.com/index.html
Re-posted on CruiseCrazies.com - Cruise News, Articles, Forums, Packing List, Ship Tracker, and more