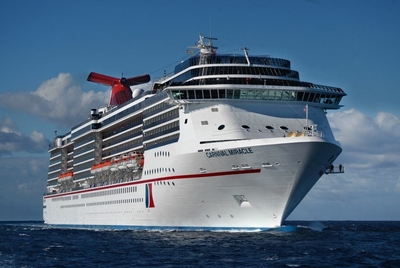 Carnival Cruise Line this week announced that the Carnival Miracle will homeport in San Diego in late 2019, marking the cruise line's return to San Diego for the first time in seven years.
When it arrives, Miracle, which was most recently sailing seven-day cruises out of Tampa, will sail a schedule of three- to 15-day cruises through February 2020, starting with a seven-day Mexican Riviera itinerary that sets sail on Dec. 1, 2019.
Miracle will sail two, five-day itineraries that include two days at Cab San Lucas on Dec. 22, 2019 and Jan. 12, 2020; two, three-day sailings that stop in Ensenada on Dec. 27, 2019 and Jan. 3, 2020; a four-day New Year's Baja Mexico sailing on Dec. 20, 2019; and a six-day sailing that features two days in Cabo San Lucas and a day at Ensenada on Jan. 6, 2020.
It will wrap up its San Diego season with a 13-day repositioning cruise through the Panama Canal that leaves San Diego on Feb. 1, 2020 and arrives in Miami on Feb 13.
Carnival will continue its commitment to Southern California after the Miracle leaves — Panaroma, its new Vista-class ship, will deployed to Long Beach in 2019, offering seven-day Mexican Riviera itineraries. It will begin its season by offering a one-time, three-night sailing to Ensenada from Long Beach on Dec. 11, 2019.
By Daniel McCarthy, Travel Market Report
Re-posted on CruiseCrazies.com - Cruise News, Articles, Forums, Packing List, Ship Tracker, and more
For more cruise news and articles go to https://www.cruisecrazies.com