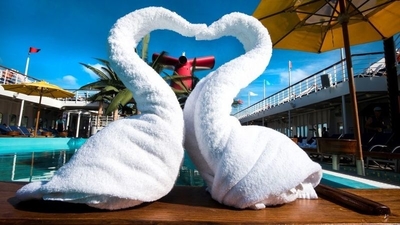 Champagne corks popped around the world on Valentine's Day, as more than 1,000 couples renewed their vows on ships sailing to the Caribbean, Mexico and Australia.
The celebration, organized Thursday by Carnival Cruise Line, took place in the fleets' atrium lobbies, followed by balloon drops and toasts.
In addition, Carnival super fans Catherine and Jim Skoglund of Queen Creek, Ariz., who have sailed with the line 14 times, will renew their vows aloft on the Carnival AirShip as it flies over Phoenix on Friday. The blimp-like #ChooseFun airship just competed a West Coast tour, including visits to Los Angeles and San Francisco.
The Skoglunds met 25 years ago in an Arizona restaurant where they worked. Since then, they have spent almost 100 days at sea, including their honeymoon on Carnival Elation, and have two cruises booked this year.
During the ocean-going vow renewals, couples played Valentine's Day-themed trivia games, watched romantic movies and the ships' Love & Marriage Show. There are also Kiss Cams aboard, with couples shown kissing on the poolside LED screens.
By ROSEMARY MCCLURE, LA Times
Re-posted on CruiseCrazies.com - Cruise News, Articles, Forums, Packing List, Ship Tracker, and more
For more cruise news and articles go to https://www.cruisecrazies.com