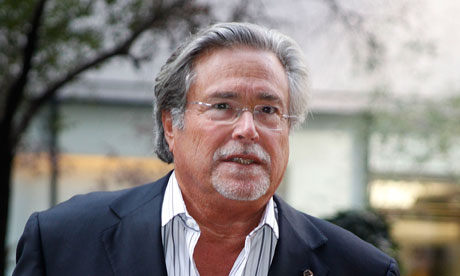 Carnival Corp. said its decades-long chief executive who was at the helm as the firm became the world's largest cruise company -- and faced recent crises as its ships faced highly publicized safety problems -- will step down.
The Miami firm said Tuesday that Micky Arison, 63, will leave his CEO post July 3 but stay on as chairman of the board in a move that splits the two positions. Arnold W. Donald, 58, a 12-year member of its board, will replace Arison as chief executive.
Arison became chief executive in 1979, before the company went public, and guided it through its arrival on Wall Street and several major acquisitions, including Princess Cruises, Holland America and Costa Cruises.
Carnival said that under Arison's helm the company grew from three cruise ships and one brand to a fleet of more than 100 ships that ferry around 10 million travelers a year.
Last year the company came under worldwide scrutiny when its Costa Concordia ship crashed off the coast of Italy, killing 32 and leading to criminal charges against the captain.
Then in February, an engine fire on Carnival Triumph zapped most of the power on board, leading to overflowing toilets and angry passengers as the ship was towed from the Gulf of Mexico.
The company has since announced that it will make safety upgrades to its entire fleet.
But Carnival's problems took a toll on the cruise industry, recent surveys by Harris Interactive show.
In its quarterly report issued Tuesday, Carnival reported sales down 1.7% to $3.48 billion for the quarter ended May 31. That was below analysts' predictions that averaged about $3.56 billion.
Company profit for the quarter was $41 million, which was better than analyst forecasts and a considerable jump from $14 million during the same period last year. The profit result was helped by declining fuel costs.
Carnival said its cumulative advance bookings for the rest of 2013 are below last year levels.
Arison, who also owns the Miami Heat, will remain Carnival's largest shareholder.
"I have been discussing this with the board for some time now and feel the timing is right to align our company with corporate governance best practices and turn over the reins after 34 years as CEO," Arison said in a statement.
Arison praised new chief executive Donald as "an exceptional professional with extensive experience in organizational leadership who will bring a fresh perspective to the company."
By Andrew Khouri, Los Angeles Times
For more cruise news & articles go to http://www.cruisecrazies.com/index.html
Re-posted on CruiseCrazies.com - Cruise News, Articles, Forums, Packing List, Ship Tracker, and more