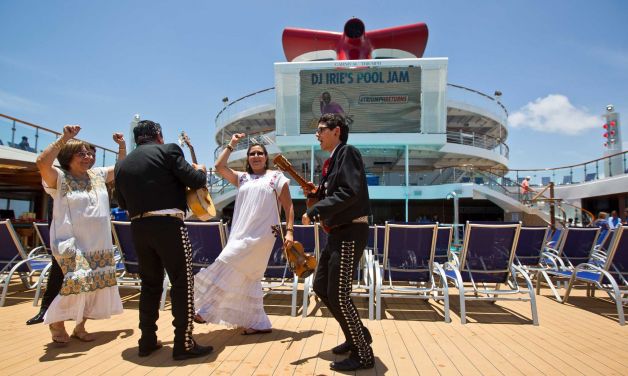 A Beaumont eye care business and a group of cruise ship passengers have filed separate lawsuits against Carnival Cruise Lines in connection with the ill-fated Carnival Triumph voyage in February.
Dr. Peter Cass, who owns and operates Beaumont Family Eye Care, filed a lawsuit Aug. 8 to recoup losses to his business stemming from the cruise ship's problems.
Three days after leaving Galveston on Feb. 7 for Mexico, a fire ignited in the Triumph's engine room, disabling the vessel's propulsion system and knocking out power. The cruise ship drifted for days in the Gulf of Mexico before it was towed to Mobile, Ala., on Feb. 14.
Cass took his entire staff on a cruise aboard Carnival Triumph, and suffered economic losses due to the five-day delay in getting the employees back to reopen the business.
"This is purely an economic loss claim," said Beaumont attorney Matthew C. Matheny, who represents the eye center. "Dr. Cass actually took his entire office on a paid vacation, including some of their spouses. They were stranded out there and had to shut down the business for more than a week."
Cass also chartered a bus to get his staffers back to work, and sustained additional expenses with contract labor, Matheny said.
The lawsuit alleges that the cruise line was aware of the mechanical problems aboard the ship and failed to maintain the vessel "in a reasonable and safe manner to prevent a fire in the engine room." The cruise line also failed warn passengers of the danger, the lawsuit states.
In a separate lawsuit also filed Aug. 8, some passengers who were aboard the Triumph claim that they exposed to urine and feces and the odors of raw sewage that leaked through the ceilings, walls and floors.
The federal lawsuit also alleges that passengers were exposed to extreme heat and cold temperatures and had to wait in long lines to get water and food.
The lawsuit, filed by Beaumont attorney T. Roebuck, alleges that Carnival was negligent for failing to maintain the vessel in a reasonable and safe manner, for failing to hire and supervise competent management, and for failing to provide sanitary accommodations, adequate food and drinking water, and ventilation.
The lawsuit seeks an award of damages for discomfort, medical expenses, mental anguish and lost earnings, and out-of-pocket expenses.
Carnival spokesman Vance Gulliksen declined to comment about the lawsuits.
By Robert Stanton, Beaumont Enterprise
For more cruise news & articles go to http://www.cruisecrazies.com/index.html
Re-posted on CruiseCrazies.com - Cruise News, Articles, Forums, Packing List, Ship Tracker, and more