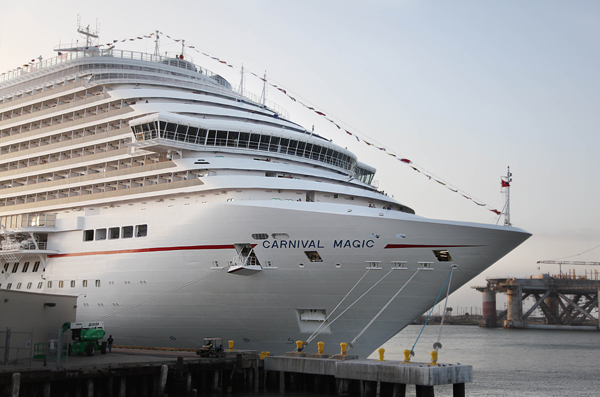 A Nashville neurosurgeon was pulled off a Carnival cruise suspected of planning to commit a bio-terrorist attack, after a tweet from an impostor account claimed the doctor had a vial of harmful bacteria on board.
Dr. Jack Kruse was on the Carnival Magic cruise ship Sunday about to set off from a Galveston, Texas, port. He planned to speak to the passengers on the 5th Annual Low-Carb Cruise Monday morning. He passengers never got to hear that lecture, though, because Kruse was escorted off the cruise after a suspicious tweet posted that morning was detected.
A cruise line official confirmed that the FBI, Homeland Security, the Galveston police and the U.S. Coast Guard were alerted about the tweet.
A tweet posted by an account "s***krusesays," which we've edited because of an expletive, said, "security confiscated dynamite. talk won't be as explosive as one at PaleoFx. still have vial of Legionnaires for epic biohack. #lccruise12." The fake Twitter account, which parodied the doctor, has been deleted.
"It was like being in a movie, and it was surreal," Kruse said in a statement about the incident. "Having the room completely trashed, and I was asked all of these crazy questions. I had no idea what they were talking about."
In addition to the tweet, however, the cruise line received a call from a "Lance," who claimed the doctor had a plan to perform a viral biohack on the ship, Kruse said in his statement.
Kruse's belonging and computer were searched by the authorities, the statement says. Officials determined the tweet was posted from an impostor and the officials cleared the doctor, the ship's captain confirmed. The Carnival cruise ship captain did not permit him to re-board the ship before it left the Galveston port.
In a letter to the passengers of the cruise (see below), Captain Giovanni Cutugno apologized that the doctor would not be available to speak.
"Since the safety and well-being of my guests and crew is my number one priority, every security threat is taken seriously and fully investigated," Cutugno wrote. "It is for this reason that I felt it was in the best interest of all my guests to err on the side of caution and not allow him to set sail as planned."
The investigation is ongoing into the tweet and the identity of the creator.
Kruse has his own legitimate Twitter account.
The letter delivered to all passengers:

By Laura Weisman, SFGate.com