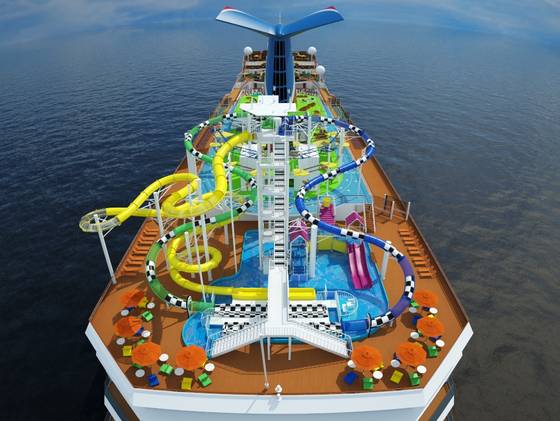 One of the largest water parks ever on a cruise ship will debut in April on the Carnival Sunshine.
Carnival on Thursday announced the 2,642-passenger vessel's new deck-top WaterWorks area will be home to five water slides, including a 334-foot-long Twister slide that extends out over the edge of the ship.
The area also will have 40 interactive water features, including a 300-gallon "dump bucket" that will periodically drench park-goers.
The Twister slide will be Carnival's longest ever.
The addition of the water park is part of a previously announced, $155 million overhaul of the 15-year-old vessel, formerly known as the Carnival Destiny. The ship will spend seven weeks in dry dock early next year undergoing the makeover, re-entering service in April.
Other additions to the ship announced on Thursday include a Cuban-themed nightspot called Havana Bar, an Asian restaurant, a milkshake outlet called Shake Spot, a specialty coffee outlet called JavaBlue Cafe and an artisanal-style pizzeria.
The vessel also will receive a Guy's Burger Joint, a hamburger outlet developed with the Food Network's Guy Fieri that Carnival has been rolling out across its fleet, and one of Carnival's signature BlueIguana Cantina Mexican eateries.
Nearly half a dozen other new themed bars and eateries that Carnival has been adding to ships also will debut on the Carnival Sunshine, including the Caribbean-themed RedFrog Pub, RedFrog Rum Bar, BlueIguana Tequila Bar; EA SPORTS Bar and the Alchemy Bar.
By Gene Soan, USA Today