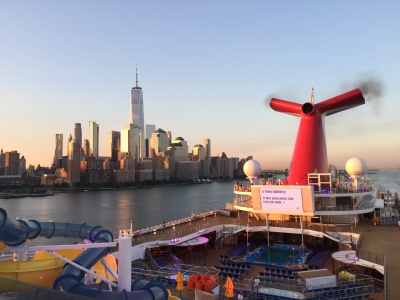 By Gerry Barker
ABOARD CARNIVAL SUNRISE_After investing nearly $200 millon in shiny new upgrades for Carnival Triumph, it's no wonder Carnival opted to give the refurished ship a new name as well. Meet Carnival Sunrise. Newly launched this spring after two months in drydock, Pam and I are checking out all the changes on a 5-day cruise to Bermuda.
Getting here was something of an adventure in itself. When we can, we shun airline travel in favor of taking the train. So we opted for a sleeper on Amtrak, normally a 25-hour trip from West Palm Beach to Penn Station, a journey we have made on several occasions. This time however, we had an extra four hours of travel time due to unexpected delays. Not a problem -- we booked to arrive the day before our cruise started, just to cover such eventualities.
Embarkation was smooth sailing (we love priority boarding) and our bags actually beat us to our stateroom -- that's a first. Speaking of staterooms, Carnival upgraded those as well. We have a standard balcony on Deck 6, with more than ample cabinets to store our clothes and essentials. Despite rain coming in waves, passengers crowded the top decks to bid adieu to New York. There's really nothing like moving past the massive skyline of the city and sailing by Lady Liberty, one of the most iconic and meaningful monuments in the world.
Inside, we're impressed by how engaged Carnival personnel, stationed outside elevators and dining areas, are in answering questions and directing guests. It really helps first-timers, as well as veteran cruisers making their first visit to this ship. We have chosen Anytime Dining, which means we can request a table anytime between 5:15 and 9:15. Carnival has made that easy, too, through the Carnival HUB app, which helps you organize just about all aspects of your cruise.
As New York fades in the distance, the sun has returned in all its glory. Tomorrow is a sea day, and we'll take that time to look over all the changes $200 million will buy.
Go Here to See Full Coverage of Carnival Sunrise to Bermuda.