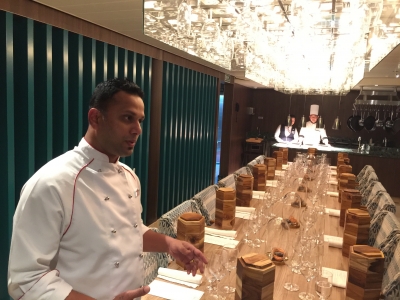 By Gerry Barker
ONBOARD CARNIVAL SUNRISE_It's called "The Chef's Table," and if you're a true foodie, and you're on a Carnival cruise, it's something you don't want to miss.
Now offered on all  Carnival ships, we were fortunate enough to get an invitation to experience what it's like. Hey, you don't have to ask us twice.
Limited to the first 14 people who sign up -- and we hear reservations go fast -- there were four us who participated in this special media event. Normally hosted by the ship's master executive chef, our host was his assistant, Plato Fernandes, from Goa, india.
For starters, Sunrise had a private room set aside just for The Chef's Table. Elegantly appointed, it immediately conveys a sense of what's to come and raises your level of anticipation.
Normally an eight-course meal, accompanied with champagne and a selection of wines, it typically lasts three hours or more. We were getting an abbreviated version in advance of Sunrise's sailing to Bermuda. You can see the full menu on the right, which is personalized with your name. Nice touch.
While the food is the main event, there is also a "behind-the-scenes" and theatrical elements as well (we understand the full experience incorporates a magician). After a round of "amuse bouche" to whet our appetites, we followed Plato into the ship's kitchen to learn about our next course: A selection of mushroom-inspired dishes.
Go Here for Photos and Video of the Chef's Table.