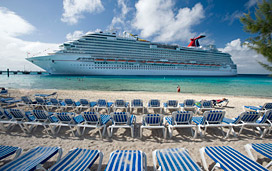 Update, 1 p.m. EDT: According to an update provided by FBI Special Agent Dave Couvertier, Dutch authorities took custody of the infant's body on Wednesday and interviewed the 20-year-old mother. The mother remained in St. Maarten and is expected to return to the United States within the next 24 hours. This is an ongoing investigation and the FBI is coordinating with Dutch authorities in St. Maarten.
(9:45 a.m. EDT) -- The FBI is investigating the death of a newborn found Wednesday on Carnival Dream, which returned to its Port Canaveral homeport Saturday.
"Law enforcement authorities were advised and subsequently a 20-year-old female guest who was traveling onboard the ship was detained [in St. Maarten, where Dream called on Wednesday] pending further investigation," said the line in a statement. At this time, the U.S. Federal Bureau of Investigation is handling the matter.
Carnival says an employee discovered the deceased newborn in a guest cabin.
In an e-mail to the Associated Press, Special Agent Dave Couvertier wrote, "No one has been charged as we are still working on obtaining facts and gathering any available evidence. As a result, no information is being released regarding suspect(s) at this time." Couvertier added that the detained passenger is from the United States.
Carnival's official policy states, "Pregnant women are not allowed to cruise if their estimated gestational age on the day of disembarkation is 25 weeks or more." Women with an estimated gestational age of 25 weeks or less, on the day of disembarkation, must submit, prior to departure, a letter from her attending physician certifying that her gestational status is in accordance with this policy, and that the expecting mother is fit to sail.
Carnival and the FBI have yet to respond to requests for more information.
--by Dan Askin, News Editor