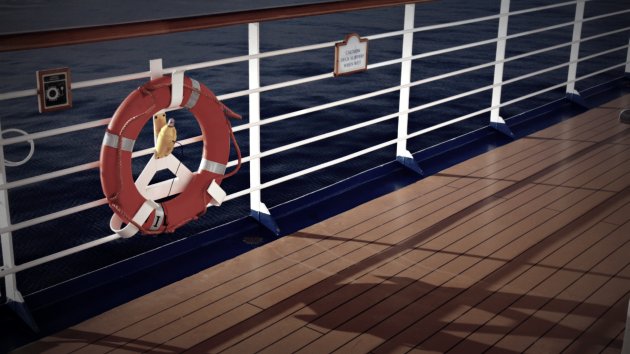 Video footage from the Carnival cruise ship where a young couple went missing this week appears to show the woman jumping from the vessel and her panic-stricken boyfriend following moments later, Australia's Herald Sun is reporting.
The news outlet, citing local police, says an enhancement of security video from the Australia-based Carnival Spirit appears to show Paul Rossington, 30, jumping after his girlfriend, Kristen Schroder, 27, about 20 seconds after she plunged from the ship.
The couple went overboard late Wednesday as the Carnival Spirit was sailing off the coast of Australia, but no one realized they were missing until Thursday morning when the vessel docked in Sydney, Australia.
A massive air and sea search of the waters off the Australia coast begun on Thursday was called off today, and the couple is presumed dead.
The Herald Sun says detectives have spent the last day enhancing and analyzing surveillance footage from the ship to figure out what happened to the couple, who were traveling with friends and family.
In a statement sent to USA TODAY on Thursday, Carnival was vague about what the security camera footage showed but ruled out anything criminal.
"There is indication from the shipboard video of what transpired," the statement says. "There is no evidence of foul play. However, out of respect for the families, we are not going to publicly disclose the details of what occurred at this time."
Carnival's top executive in Australia, Ann Sherry, today defended the Carnival Spirit crew's handling of the situation, the Sydney Morning Herald reports. While the couple's fall from the ship was caught on tape Wednesday by one of the vessel's 600 surveillance cameras, Sherry noted that not all the cameras are monitored around-the-clock.
"We've invested hugely (in cameras), we can see exactly what's going in most parts of the ship at most times," she said, according to the Morning Herald. "There is also a balance, of course, around privacy. We don't watch what people are doing in their private spaces, but we are keen to know exactly what's happening around the sides of the ship."
The incident is just the latest to put Carnival in the spotlight. It comes three months after a power loss on another Carnival ship, the Carnival Triumph, left passengers stranded at sea for days in miserable conditions. The much-publicized event followed an engine room fire on the ship.
Carnival also has experienced power problems in recent months with several other ships, including the Carnival Legend and Carnival Dream, and the line this week has faced complaints about unfinished areas from passengers on the first voyage of the newly revamped Carnival Sunshine.
The 2,124-passenger Carnival Spirit is based in Australia year-round. One of 24 ships at the line, it sails eight- to 12-night voyages to the South Pacific out of Sydney and Melbourne, Australia that are aimed primarily at Australians.
By Gene Sloan, USA Today
For more cruise news & articles go to http://www.cruisecrazies.com/index.html
Re-posted on CruiseCrazies.com - Cruise News, Articles, Forums, Packing List, Ship Tracker, and more