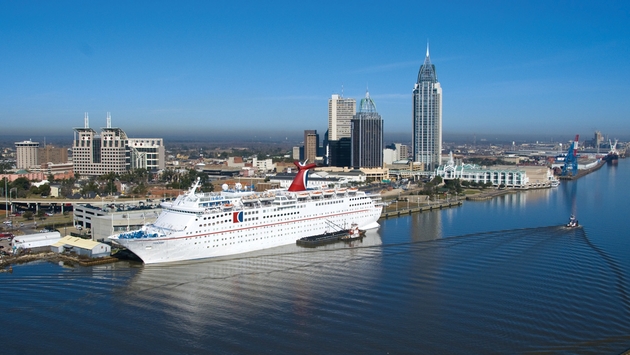 Carnival Cruise Line confirmed that it is in final negotiations for a resumption of cruises from Mobile, Alabama.
In a statement, Carnival said officials met with Mobile Mayor Sandy Stimpson on Sept. 2 in Miami.
"We are in the final stages of contract negotiations with the City of Mobile for future cruises from the port," the statement said. "We expect this process to be concluded by the end of the month."
Carnival operated at Mobile from 2004 through 2011, occupying a $28 million terminal that has gone largely unused since it departed four years ago.
At the time, Carnival cited prices that were lower than achieved at other ports for the pullout. Carnival also has Gulf Coast cruises that depart from Galveston, New Orleans and Tampa.
No other cruise line stepped in to take Carnival's place in Mobile after it left.
In a press conference, Stimpson said Mobile is not negotiating with any other cruise operators.
Source: Tom Stieghorst (Travel Weekly, Sep. 4, 2015 "Carnival Negotiating Return to Mobile")
Re-posted on CruiseCrazies.com - Cruise News, Articles, Forums, Packing List, Ship Tracker, and more.
Please visit CruiseCrazies.com for more cruise news & articles.

Featured photo credit: Shutterstock