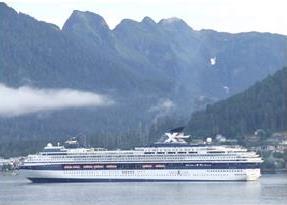 Celebrity Silhouette is a Solstice-class cruise ship
A cruise-ship passenger, injured in a fall aboard ship, was rescued by the U.S. Coast Guard while the passenger vessel was anchored in New York Harbor off Staten Island, yesterday.
A Coast Guard spokesman says the 97-year-old woman was aboard the Celebrity Silhouette when she fell and suffered a head injury that required immediate medical attention.
A Coast Guard flight surgeon determined the woman's condition needed medical attention and recommended she be transported off the cruise ship.
The 87-foot Coast Guard patrol boat Sailfish, home ported at Sandy Hook, N.J., responded to the 6:20 p.m. call for help, and transferred the injured woman to shore. She was transported to a hospital by an FDNY ambulance.
The woman, whose name was not released, was reported to be in stable condition when she was transferred from the ship.