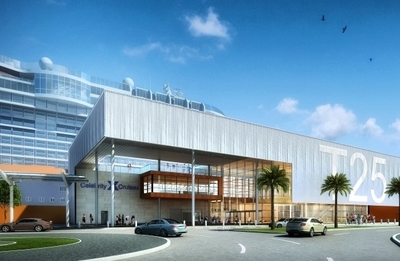 Florida's cruise ports continue to grow, with two additional lines planning new terminals to accommodate their newest ships.
Celebrity Cruises will complete its new terminal at Port Everglades (Fort Lauderdale/Hollywood, Fla.) in October in time for the launch of the Celebrity Edge cruise ship.
In addition, MSC Cruises has announced plans to complete a new PortMiami terminal by 2022, designed to hold the line's new mega-ship.
Celebrity's terminal will be its first designed specifically for the brand. In addition to housing Celebrity Edge, Terminal 25 will be the new home to other Celebrity ships during their winter deployment, including Celebrity Infinity, Reflection and Silhouette. When Celebrity is not using T25 the facility, it will be open to other cruise lines.
Port Everglades currently hosts 335,000 Celebrity passengers annually, representing about 9% of its overall passenger traffic. Once the new cruise terminal is completed, it is anticipated that Celebrity will generate nearly 500,000 travelers to the port.
The new terminal is being designed to make the check-in process easier and will offer Suite Class guests an exclusive lounge, elevator lobbies, screening areas and private rooftop terrace.
Port Everglades is replacing two smaller and outdated terminals with Terminal 25.
MSC's new Terminal AAA, scheduled to open at Port Miami in October 2022, will accommodate MSC Cruises' World Class, currently under construction, which will carry up to 7,000 cruise passengers.
Other ships that will use the terminal include MSC Seaside, which debuted in late 2017; Armonia, which will home port in Miami beginning in December for the line's first sailings from the U.S. to Cuba; Meraviglia, set to make a North American debut in November 2019; and Divina, which will return seasonally to PortMiami.
MSC Cruises is the world's largest privately owned cruise company and the largest cruise line in Europe and South America. Its fleet includes 15 ships.
By Rosemary McClure, LA Times
Re-posted on CruiseCrazies.com - Cruise News, Articles, Forums, Packing List, Ship Tracker, and more
For more cruise news and articles go to https://www.cruisecrazies.com