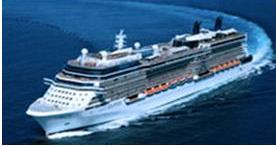 Celebrity Cruises has expanded the number of ports in which it offers private shore excursions from 13 to 70. The private tours include a private vehicle with a driver or a driver and a tour guide.
Private tours are now available in over 50 ports of call in Europe and over 20 ports of call in Alaska, Bermuda, the Caribbean, Hawaii, the Pacific Northwest and South America. They can be purchased online per-cruise, for either a half-day or full day of exploration. The day's itinerary is at the guest's discretion and is coordinated directly with the driver and/or guide on the day of the tour.
Celebrity also offers customized arrangements in any destination, allowing guests to create their own itinerary for the day, and, if they wish, include meals and entrance fees to local attractions. The itinerary, arranged in advance, can be flexible in terms of numbers of hours, and is offered in every one of Celebrity's ports and destinations worldwide.
Vehicles for both options generally include a car that seats up to three guests, a van that seats four to eight guests, or a minivan that seats eight to 10 guests. Private shore excursions can be booked online a minimum of four days before the cruise.
Custom arrangements can be booked through Celebrity's shore excursions team, a minimum of 30 days before the cruise.