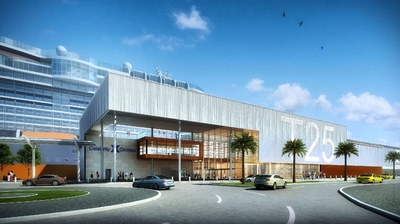 Celebrity Cruises this week released designed for its new cruise terminal at Port Everglades in Fort Lauderdale, Florida, the line's first brand-designed terminal.
The terminal's concept is built around hosting Celebrity Edge, the brand's newest ship that will debut later this year. It is scheduled to open in October 2018, just a few weeks before Edge starts sailing.
Edge includes a number of innovations for Celebrity, both in technology and in hardware, including the debut of the line's new Magic Carpet, a traveling platform the size of a tennis court hanging off the side of the ship that will offer a full bar, a live music area, meeting space, and an open-air dining venue.
Celebrity President and CEO Lisa Lutoff-Perlo said in a statement that the cruise operator wanted to "design a terminal that perfectly complemented the ship and matched its one-of-a-kind experience" and that its renovation of the existing Terminal 25 at Port Everglades will do just that.
"With cutting-edge technology, in service of a gorgeous design, T25 is that perfect new home," she added.
The terminal, which will take over two existing terminals at Port Everglades, will offer Edge guests Frictionless Arrival, which the line says will speed up the check-in process. It will also boast an interactive light wall art installation; a dedicated long, lobby, and a rooftop terrace for suite guests; and a metal fabric façade called Mediamesh.
In addition to Celebrity Edge, Celebrity Infinity, Celebrity Reflection, and Celebrity Silhouette will all homeport at Terminal 25 during their winter deployment.
By Daniel McCarthy, Travel Market Report
Re-posted on CruiseCrazies.com - Cruise News, Articles, Forums, Packing List, Ship Tracker, and more
For more cruise news and articles go to https://www.cruisecrazies.com
Edited by Jason