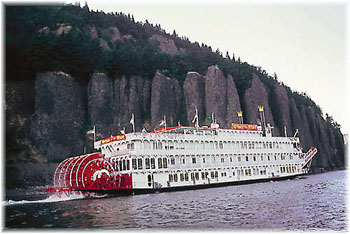 Century Cruises, which operates a fleet of Yangtze River ships in China used by many tour operators, next fall will introduce two new vessels -- the 398-passenger Century Paragon and Century Legend. The ships will have two Executive Decks with extra amenities.
Connected by a private staircase, the two Executive Decks have an exclusive a la carte restaurant, a private reception area, bar, sun deck area and 24-hour concierge service for food and beverages. The 366-square-foot Executive Suites are furnished with an LCD TV, DVD player, mini bar, Italian coffee machine, and in-room Wi-Fi. Guests can also use butler service and free laundry service. Daily in-room snacks and fruits are also included. Executive Suite guests receive a welcome bottle of red wine and one Western dinner in the Executive Club Restaurant.
The standard staterooms are 301 square feet. All have balconies, direct-dial phone, LCD satellite TV, air conditioning and a bathroom with a separate bathtub.
The two ships also will each have a 2,150-square-foot heated indoor swimming pool and spa with bar, fitness center, private relaxation area and two dressing rooms with shower.
The Grand Atrium lobby will be seven stories high. An auditorium-style HD cinema seats up to 150 guests and features multi-lingual translation equipment for international meetings.
Each ship will have a main restaurant featuring floor-to-ceiling windows, two bars, Wi-Fi throughout, shops, a game room, a library, a card room, and children's playground. The ship will host lectures about the Three Gorges, cooking demonstrations about traditional Chinese and "hot pot" cooking, and Tai Chi classes every morning. Evenings will feature performances of a professional folklore entertainment troupe.
The new Century Paragon and Century Legend were designed by Yran & Storbraaton, noted Norwegian cruise ship designers, and supervised by EMS and Schiffstechnik Buchloh, two German ship-building firms.
The ships' engineering and green technology features include a propulsion and propeller system designed to substantially reduce vibration and noise, while significantly increasing the ships' maneuvering capability. They also will have an Internet-based remote control surveillance system for passenger security and safety.