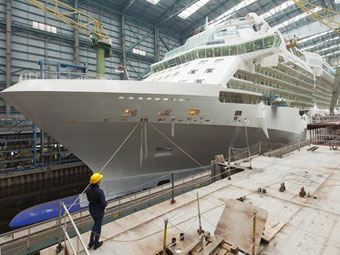 Germany's Meyer Werft is preparing to float out its next cruise ship for Celebrity Cruises. Early Sunday morning August 12, the Celebrity Reflection is scheduled be floated out of the shipyard's covered building dock assisted by tugs. The float-out will start around 7.30 a.m. By 9 a.m. the ship will be berthed at the pier. Then a crane will put the signal mast in place. Several tests and trials will take place on board all day. In the evening the two stacks are set to be mounted.
Once the float-out is completed, the first crew members will move into their quarters on board.
With the ship berthed at the yard's pier, the remaining interior finishing work as well as tests and trials will be carried out over the next few weeks. The Celebrity Reflection will stay berthed at the pier until its conveyance from the shipyard to the Eemshaven via the River Ems, which is likely to be between September 16 and 18. She will be the maritime backdrop for the Papenburg Festival 2012 which will take place September 8.
The 126,000-gt Celebrity Reflection is 319 m long and 37.40 m wide. With accommodations for 3,030 passengers in 1,515 cabins, she is the first ship in the Solstice class to have 16 rather than 15 decks.