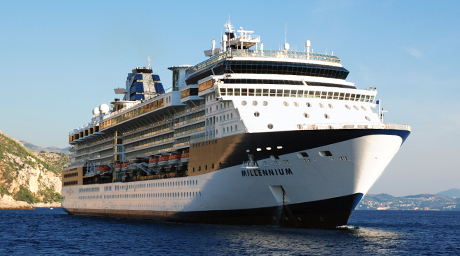 The Celebrity Millenium, which was to have taken off Friday, will remain in port in Seward until Tuesday due to engine trouble. It has 2,038 passengers on board and 1,364 crew members.
The ship arrived four hours later than scheduled Friday morning after experiencing an electrical problem with one of the ship's two propulsion motors, discovered while at sea yesterday. The intricate repairs required to restore power to the motor will take several days, according to Celebrity Cruises.
The delay left the hundreds of passengers scrambling to find a way back to Anchorage to catch a flight home, or trying to make other last-minute arrangements as Hertz rental cars and coaches had been pre-booked and were generally full. It also delayed check-in by at least an hour, and affected the various excursions that generally take place.
Passengers arriving in Seward to board the ship were alerted to the issue late afternoon and were invited to stay the night on the ship before deciding whether to stay on board the ship and leave with it Tuesday morning, headed straight for Vancouver, and skipping planned stops in Juneau, Ketchikan and Skagway, or to leave the ship Saturday and make other arrangements.
In a letter to passengers Master of the Celebrity Millennium, Captain Konstantinos Nestoroudis apologized for the inconvenience and the disappointment they must be feeling. In reward, the cruise line offered to refund passengers who stay on the ship a refund for the full amount of their ticket paid plus 100 percent credit toward another future cruise ship ticket worth the amount paid, and if they chose not to stay on board the ship, a credit toward a future Celebrity cruise worth 50 percent of the fare paid in addition to a full refund.
The captain also warned that due to the high number of guests departing Friday and arriving over the weekend for other cruises, hotels in Seward and Anchorage are extremely limited, as are air options out of Seward and Anchorage.
Passengers milled around the cruise ship terminal this evening, many disappointed and confused as to their options, although some sought out things to do here in Seward for the next three days. An Iditaride Sled Dog tours employee took advantage of the situation and handed out brochures for their tours. One local cruise ship worker commented that the delay might help local downtown businesses.
Her prediction was realized Saturday as the sun came out, and the majority of passengers reportedly decided to stay and enjoy the local attractions. They filled the streets and businesses, the path to Exit Glacier, took wildlife cruises and dog-sled tours, filled the harbor and sea life center helped by additional shuttle buses provided by the cruise ship company. The special shuttle was even seen parked outside of town at the low-cost liquor store, SAK Pride.
By Heidi Zemach reporter, Seaward City News
For more cruise news & articles go to http://www.cruisecrazies.com/index.html
Re-posted on CruiseCrazies.com - Cruise News, Articles, Forums, Packing List, Ship Tracker, and more