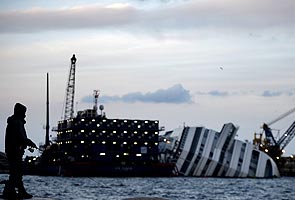 Giglio Island, Italy: Salvage workers from around the world have descended on this tiny Mediterranean island in their hundreds to refloat the Costa Concordia in the biggest removal of its kind ever attempted.
Out of the 420 salvage workers on Giglio Island, which commemorates the one-year anniversary of the cruise ship disaster on Sunday, around 100 divers are housed in portacabins on a floating platform.
Other workers have been living for months on barges and in bed and breakfasts around this pristine and picturesque outcrop off the shores of central Italy.
In the evenings, some of the multi-national workforce comes to the cafes in the island's port.
"Most of the locals have been extremely welcoming," said David, a 34-year-old salvage worker from Belgium with curly hair and blue eyes.
"But others blame us in some way for the ship still being here," said the technology specialist who is working on the ship's commands so that it can be refloated once it is dragged upright again.
The 290-metre (951-foot) Costa Concordia hurtled into rocks just off Giglio on the night of January 13, 2012, veered sharply and keeled over with 4,229 people from 70 countries on board in a tragedy that claimed 32 lives.
Cranes and barges can now be seen crowded around the vessel, with welders rappeling down its hull and divers going down to stabilise the vessel before an attempt to refloat it and tow it away expected to be completed by September.
"This is a unique project, it has never been done before," Franco Porcellacchia, deputy president of ship owner Costa Crociere, told AFP.
Porcellacchia, who is coordinating the project, explained that costs had ballooned from an original estimate of $300 million to $400 million (300 million euros) so far, with financing coming from the ship's insurance.
"We have some 20 nationalities. We have called in the best talent," he said.
Engineers, divers and geologists come from a myriad of countries including Brazil, Britain, the Netherlands and the United States.
The whole hi-tech Tower of Babel shines like a Christmas tree during the night as work goes on around the clock to catch up on delays in the project -- particularly in drilling giant holes in granite seabed to set up a platform.
The plan is to install the metal platform under the wreck, then right the ship using giant tanks welded to its side and refloat it. The experts estimate they will then need three months before the ship can be towed away to a port.
The operation is being run by Miami-based salvage giant Titan and its Italian partner Micoperi, which specialises in servicing offshore oil rigs.
But there are dozens of subcontractors too, moving back and forth between the port and the barges and frequenting the few cafes on the island.
Nick Sloane, senior salvage master for Titan, said: "Refloating the boat should only take six hours, but the weight of the shifting water inside the ship as we right it must be extremely carefully controlled."
"We have a real international collection of technicians and computer experts here working together to get this project ready in record time," he said.
Italian salvage worker Vittorio Pitzalis said: "I'm an expert in giant cranes. I've worked in a lot of places around the world.
"I'm spending three months here, then holiday, then I'm coming back."
Relaxing at a bar with a coffee, another Vittorio, 56, said he manoeuvres the crane, positioning the drill and putting the platform supports in place.
"We work eight-hour shifts each day and sleep on the barge, only coming ashore to grab a pack of cigarettes or bottle of shampoo, that sort of thing.
"It's busy here this weekend, but the island is usually pretty much deserted, it's dead. We don't really have much of a social life."
Many of the workers are under strict rules not to consume any alcohol during their time on the island -- similar to the regime on offshore platforms.
Wherever they come from the common tongue is often English -- a language that almost none of the few hundred islanders speak although some are picking it up.
The language barrier has not prevented a few romances from striking up.
"There are love stories between the salvage workers and the local girls. It's a positive side to a drama that has embittered many of us," said Maria, a young brown-haired barmaid at one of the popular hangouts in the port.
Susanna, whose family runs a restaurant in the port, was more cautious.
"Personally, I wouldn't get romantically involved with the workers," said the curvaceous young woman, who wears her long dark hair in a side ponytail.
"They're lovely boys but you know what they say about sailors -- they have a different girl in every port!"
David said he would not be kissing and telling.
"I've been seeing a local girl but I can't reveal any secrets -- we're supposed to be focused on work!"
By Agence France-Presse, NDTV