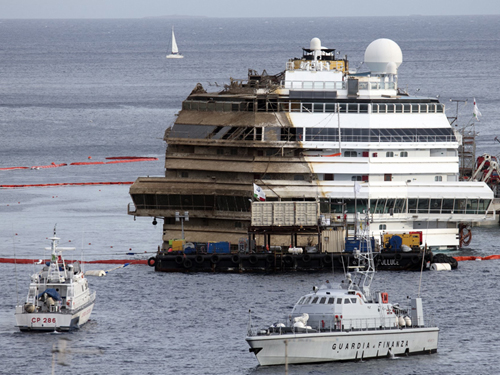 Italian authorities will begin the search for the bodies of two people who remain unaccounted for after the Costa Concordia cruise liner was shipwrecked in January 2012, officials said Tuesday.
An Italian and an Indian are believed to be among the 32 dead, but their corpses have never been found.
Officials told NBC News that diving teams and cameras will be used in a bid to locate them, following the massive salvage operation that saw the 114,500-ton ship pulled upright by a series of huge jacks and cables and set on artificial platforms drilled into the rocky sea bed.
Engineers celebrated well into the night after the so-called parbuckling operation, in which the ship was painstakingly rotated upright during the 19-hour operation -- more than seven hours longer than the time it was estimated to take.
Salvage master Nick Sloane was brought to tears talking about his relief that the operation worked.
But after the party was over it was back to work -- to begin repairing the significant damage to the ship, which continues to sit off the Italian island of Giglio more than 20 months after it crashed into rocks there.
Exterior balconies were mangled and entire sections looked warped, though officials said the damage probably looks worse than it really is.
With high winds and rough seas expected to whip the 300-foot liner this winter, crews will attempt to stabilize the vessel quickly before floating it away from the coastline so that it can be scrapped next year.
However Sloane seemed confident the ship would survive.
"She was strong enough to come up like this, she's strong enough to be towed," he told The Associated Press.
By Henry Austin, NBC News contributor
NBC News' Michelle Kosinski and The Associated Press contributed to this report
For more cruise news & articles go to http://www.cruisecrazies.com/index.html
Re-posted on CruiseCrazies.com - Cruise News, Articles, Forums, Packing List, Ship Tracker, and more