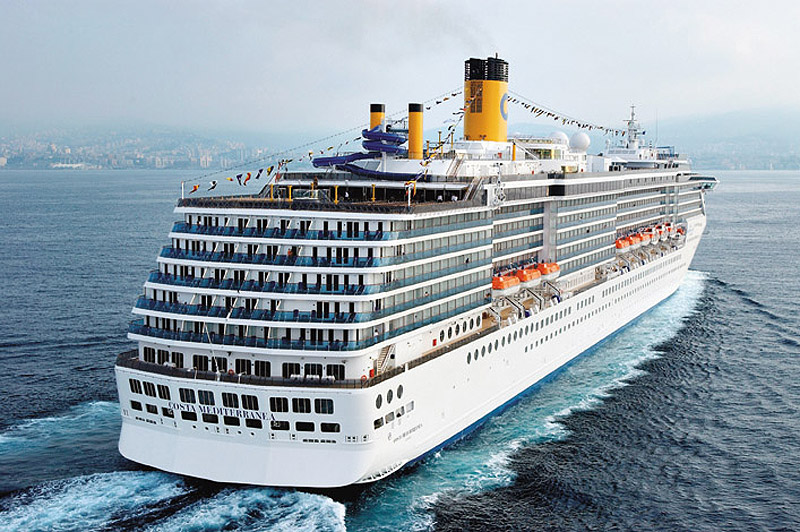 Costa Cruises, on its 65-anniversary, will launch China's first Around-the-World cruise from Shanghai on 22nd March, 2014 in partnership with Shanghai Airlines Tours (SAT), a subsidiary of China Eastern Airlines Limited.
This significant development highlights Costa's pivot towards China and comes as the country celebrates its Marine Tourism Year.
A press conference and contract signing ceremony between Costa Cruises and SAT took place in Shanghai on May 7th and was attended by Mr. Xu Baoan, Deputy Director-General of Shanghai Tourism Bureau; Pier Luigi Foschi, Chairman and Chief Executive Officer of Carnival Corporation Asia and Chairman of the Board of Costa Crociere S.p.A., Buhdy Bok, Vice President Pacific Asia and China, Costa Cruises; Mr. Dong Bo, Marketing Director of China Eastern Airlines Corporation Ltd.; and Mr. Shen Dayi, General Manager of Shanghai Airlines Tours.
"As a pioneer of the cruise industry in China and the first international cruise line to operate homeport cruises out of Shanghai since 2006, we are always challenging ourselves to bring more innovative holiday options to this market. China's first Around-the-World cruise is a perfect example of this and is the lynchpin of our Asia strategy over the next couple of years. It heralds a new milestone in China's cruise industry," said Mr. Foschi. "With our partners at Shanghai Airlines Tours, we will offer our Chinese Guests the chance to explore the world in a way that has never been possible before."
Mr. Shen Dayi, General Manager of SAT, expressed their commitment to further develop the most innovative products in the China market. "We are confident that the partnership between SAT and the world-class Costa Cruises will be a strong one, and we firmly believe that the 83-day's Around-the-World cruise in 2014 will be a huge success."
Guests on Costa Atlantica's (85,700-ton, 2,680-total guests) inaugural Around-the-World cruise will visit some of the most fascinating places on Earth. Departing from Shanghai, the first stop will be Vietnam and the cities of Ho Chi Minh and Vung Tau where Guests can take in the striking contrast of the ruined splendor and modern-day vibrancy of these two cities. Guests will then be taken to the tropical paradises of Phuket Island in Thailand, Colombo in Sri Lanka and Malé in the Maldives before journeying northwards to the ancient heart of Salalah in Oman, Sokhna in Egypt then Heraklion, Santorini and Athens in Greece.
The tour of European cities will then continue westwards heading to Catania in Italy, Marseilles in France, Barcelona in Spain and Lisbon and Funchal in Portugal. In these countries Guests will be able to sample the best that Western Europe has to offer from fine wines to high-fashion in addition to learning more about these culture-soaked cities.
Once the Old World has been explored by Costa Atlantica's Guests, she will sail from Europe to the New World stopping off first in what's arguably the most iconic city in the world, New York, before heading south to Miami and its long sandy beaches. Ocho Rios in Jamaica, transit in the Panama canal, Manzanillo in Mexico, Kahului and Honolulu in Hawaii, and Guam, will complete this once-in-a-lifetime trip, allowing Guests to discover wonderful exotic destinations. Eighty-three days from setting off, Costa Atlantica will bring its world explorers back home to Shanghai on 13 June 2014.
The introduction of Costa Atlantica to the China market in 2013 before departing for the Around-the-World cruise is a key element to Costa's Asia strategy. Berlitz, the world's most trusted guide to cruising, awarded Costa Atlantica high scores for its accommodation, food and the ship itself. A significant majority of the 1,057 cabins have balconies. The entire ship interior design celebrates Italian cinema and the arts; resulting in a gorgeous indoor environment that matches the majesty of the ocean outside: Fellini and La Dolce Vita, Madame Butterfly, the historic Caffè Florian in Venice, Via della Spiga in Milan, the Tiziano Restaurant. A spa, four Jacuzzis, four pools, a theatre, disco and children's area will keep Guests entertained between the frequent excursions.
Gianni Onorato, President of Costa Cruises, expressed his thanks to Costa's partners for their help in making China's first Around-the-World cruise a reality. "I am very grateful for the ongoing support we have received from the local government, tourism boards and our local tourism partners. Together we are working hard to supply Chinese travelers new and enticing cruise products. China remains one of Costa's key markets and today's partnership with SAT and our world cruise announcement highlights our commitment to the region."
The announcement of China's first Around-the-World cruise comes during China's 'Marine Tourism Year' which was launched in Sanya at the beginning of January 2013. The aim of the Tourism Marine Year is to boost the development of marine tourism resources, as well as bring Chinese citizens closer to the ocean. Costa Atlantica will depart from Shanghai Wusongkou International Cruise Terminal. This port has made a significant contribution to China's cruising industry since it was first established, and Costa Cruises has repeatedly made use of its top-class facilities. Setting Shanghai Wusongkou International Cruise Terminal as the homeport for China's first Around-the-World cruise exemplifies the close relationship between Costa Cruises and the Chinese authorities as both work to further develop China's cruise industry. It also underscores Costa's steadfast commitment to bring the best and most innovative cruising holiday options to its valued customers in the region.
Source: Cruise Industry News
For more cruise news & articles go to http://www.cruisecrazies.com/index.html
Re-posted on CruiseCrazies.com - Cruise News, Articles, Forums, Packing List, Ship Tracker, and more