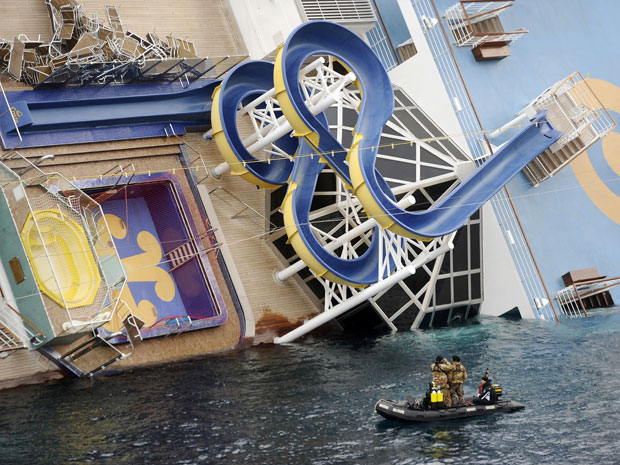 The captain accused of abandoning a wrecked cruise ship off the Italian coast says he ended up on shore after accidentally tripping into a lifeboat that was being lowered into the sea.
Francesco Schettino, who faces criminal charges of manslaughter and abandoning ship, defended himself Wednesday by saying he didn't plan on leaving his marooned boat as thousands remained onboard.
"I had no intention of escaping," said the 52-year-old captain during a court hearing, according to Italian newspaper Corriere della Sera.
"I was helping some passengers put the life boat to sea. At a certain point the mechanism for lowering it, blocked. We had to force it. Suddenly the system unblocked itself and I tripped and I found myself inside the life boat with a number of passengers."
The explanation came as instruments attached to the Costa Concordia sensed slight movement on the ship Wednesday, as it lay partially submerged in the water off the small island of Giglio.
The discovery had forced search teams to abandon their hunt for individuals who have been missing since the ship ran aground last Friday with more than 4,200 people on board.
Meanwhile, the number of missing was reduced to 21 after a German was found alive in her home country.
So far, 11 people have been confirmed dead and officials fear there are more victims trapped in the submerged half of the ship. The first victim has been identified as a 38-year-old Hungarian woman who had been working as a violinist aboard the boat.
Although search efforts resumed, the pause has dulled hopes that anyone will be found alive on the multi-million dollar vessel. The bodies of four men and one woman, all wearing life jackets, were pulled from the wrecked ship on Tuesday.
There is also fresh concern that choppy seas could result in further ship movement. Officials are worried that the ship could leak some of the 2,500 tons of fuel that remain trapped inside. Fuel is currently being pumped off the boat.
Charges against captain
Meanwhile, the Costa Concordia's captain has been placed under house arrest and faces criminal charges.
Prosecutors are expected to file charges against Capt. Francesco Schettino in the next few days.
A recorded conversation between Schettino and Italian Coast Guard Capt. Gregorio De Falco surfaced Tuesday. The widely circulated tape suggests Schettino resisted orders to board the ship again.
"Go on board! Co-ordinate the rescue from aboard the ship. Are you refusing?" an audibly frustrated De Falco can be heard shouting in the audio tape.
Schettino said he wasn't refusing but still didn't head back to the ship. At one point he told De Falco it was dark and he couldn't see anything.
"And so what? You want to go home, Schettino? It is dark and you want to go home? Get on that prow of the boat using the pilot ladder and tell me what can be done," De Falco shouted back.