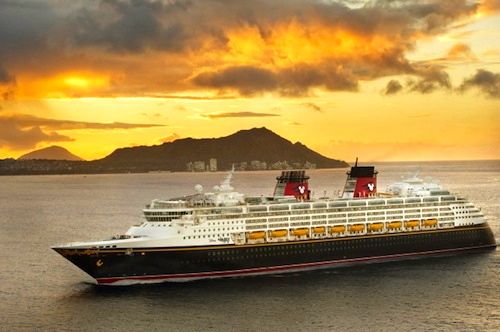 Hawaii is back on the schedule at Disney Cruise Line.
The four-ship company today announced the 1,750-passenger Disney Wonder will operate two 10-night sailings to the Aloha State in September 2015.
The first of the trips will kick off Sept. 7, 2015 in Vancouver, B.C. and feature stops in Hilo (Hawaii Island), Nawiliwili (Kauai) and Kahului (Maui) before ending in Honolulu (Oahu).
The second sailing will begin on Sept. 17, 2015 in Honolulu and include stops in the same ports before ending in Vancouver.
Disney Cruise Line only has offered two sailings to Hawaii in its 15-year history, both in 2012. They also took place on the Disney Wonder.
The new Hawaii voyages will be available to book starting on Wednesday with fares from $1,650 per person, based on double occupancy.
Disney today also announced that the Disney Wonder will sail a series of seven-night cruises from Galveston to the Bahamas in November and December 2015. Most of the trips will feature stops in Key West; Nassau, Bahamas and Disney's private island, Castaway Cay. One of the sailings (on Nov. 6, 2015) will be a western Caribbean voyage to Cozumel, Mexico; Grand Cayman, Cayman Islands and Falmouth, Jamaica.
Two additional cruises are included in the Galveston season: A six-night sailing departing on Dec. 18, 2015 that stops at Key West and Castaway Cay; and a four-night Christmas sailing that departs on Dec. 24 and stops at Cozumel.
Rates start at $948 per person for the four-night cruise; $1,116 per person for the six-night cruise; and $945 per person for the seven-night cruises.
The Disney Wonder also will operate a handful of cruises out of San Diego to the West Coast in October 2015.
By Gene Sloan, USA Today
For more cruise news & articles go to http://www.cruisecrazies.com/index.html
Re-posted on CruiseCrazies.com - Cruise News, Articles, Forums, Packing List, Ship Tracker, and more