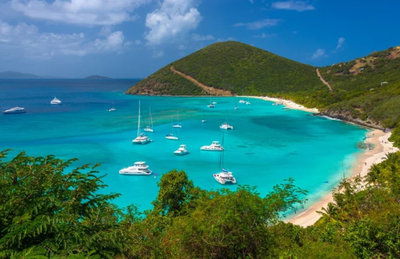 Disney has officially returned to the British Virgin Islands.
The cruise line's Disney Fantasy ship was its first to make its return to the BVI this week.
Passengers were welcomed by customer service representatives, and greeted with welcome drinks and a small parade that showcased BVI culture.
"We were so happy to see Disney Fantasy berthed at our pier once again and their over 3,600 passengers and 1,531 crew members on ground enjoying our cruise and shopping facility and the destination," said Vance Lewis, Interim CEO of Tortola Pier Park. "Our partner cruise lines and Florida Caribbean Cruise Association (FCCA) has worked tirelessly with us over the past months ensuring the quick recovery of our islands and Disney Fantasy being back here is yet another showing of their commitment to the BVI and our cruise product."
"We welcome Disney back with open arms and look forward to the full return of all the cruise lines to our beautiful shores," he said.
Fifty-four stores stood open at Tortola Pier Park, including Diamonds International, Little Switzerland and Del Sol/Cariloha, as well as a variety of other stores.
With 75 percent of the stores now open, management and tenants of Tortola Pier Park continue to work together to attain a 100 percent operational status by the end of the year, just a year following Hurricanes Irma and Maria.
By Dana Niland, Caribbean Journal
Re-posted on CruiseCrazies.com - Cruise News, Articles, Forums, Packing List, Ship Tracker, and more
For more cruise news and articles go to https://www.cruisecrazies.com