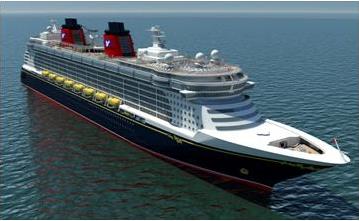 New and exclusive to the Disney Fantasy cruise ship is the stage show "Disney's Aladdin," an over-the-top retelling of the familiar story, animated movie and production from Disney's California Adventure theme park.
It's an ambitious undertaking with several production numbers, grand entrances, pyrotechnics, many costume changes and creative special effects, punctuated by a flying carpet scene that soars.
The 45-minute show is basically thieving boy meets princess, thieving boy loses princess, thieving boy gets princess back with lessons about freedom and keeping your promises thrown in. But there are current references (a Betty White joke, a Lady Gaga aside) added to make it contemporary.
Aside from the title character, who makes one of his entrances upon a puppet-like steed, and his beloved (and official Disney Princess) Jasmine, the show includes the boisterous blue Genie, the smart-mouthed bird Iago, handled by an on-stage puppeteer a la "Avenue Q," the evil Jafar and a carpet, played enthusiastically, yet silently, by an acrobatic actor.
That carpet actor isn't the secret to the flight scene, set to the film's "Whole New World" song. It's all floating platforms and smoke effects with video backdrops over the city and other tricks. The gentle swaying of the Fantasy makes this even more realistic.
The climactic scene, in which Jafar becomes all-powerful and yet thwarted within a matter of seconds, may be a little difficult to follow. But no matter, it's a happy, well-known ending.