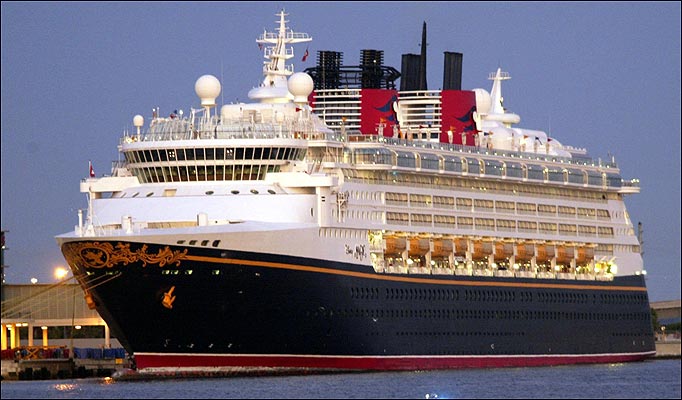 HALIFAX, Nova Scotia (June 12, 2012) – The 2,700-passenger Disney Magic set sail from New York this week taking cruisers on the first of nine 5-night Canadian / New England coast itineraries with stops in Halifax, Nova Scotia and Saint John, New Brunswick.
"Canada and the New England coast are alluring destinations for our guests," said Disney Cruise Line Captain John Barwis. "This region's history, quaint charm and scenic vistas will provide our guests with a unique and memorable vacation, and sailing from New York is convenient for many families who reside in the Northeast."
To celebrate the inaugural calls on Halifax and Saint John, Captain Barwis and his shipboard officers hosted local port officials and community leaders aboard the vessel for a plaque exchange ceremony, in accordance with maritime tradition.
"It's an honour for us and our tourism partners to host Disney – one of the world's most iconic brands – for the 2012 cruise season," said Cathy McGrail, manager of Cruise Development for the Halifax Port Authority. "We've been eagerly awaiting this day since it was announced over a year ago and we're excited to showcase our city to a new demographic."
Disney Magic crew members will be visiting more than 130 children in two hospitals in Halifax and Saint John with character visits this week. Over the years, these visits have grown into a tradition for crew members to demonstrate our commitment to the local community.
In September, the Disney Magic will reposition to sail 6-, 7- and 8-night Western Caribbean itineraries from Galveston, Texas for the first time. In May of 2013, the Disney Magic will cross the Atlantic to begin a summer season.
Source: Disney Cruise Line