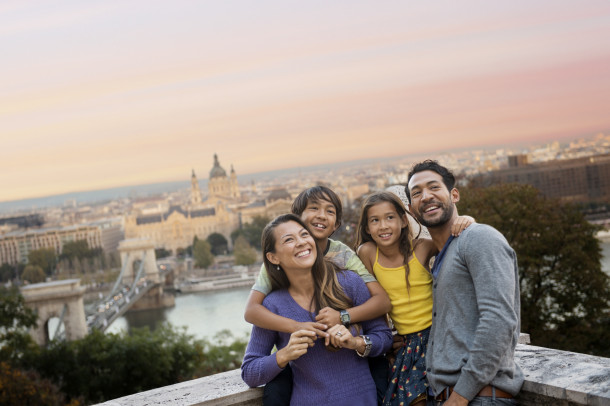 Adventures by Disney announced the introduction of its first-ever river cruising itineraries.
Sailing with AmaWaterways, a river cruise line, Adventures by Disney river cruises "offer a new way for families to experience the heart of Europe in a way that is active, immersive and easy," according to a release.
Four sailings along the Danube River in the summer of 2016, as well as one holiday themed sailing in December 2016, will give travelers the opportunity to experience eight destinations across four countries – Germany, Austria, Slovakia and Hungary.
According to the press release:
Combining the award-winning service and luxury of AmaWaterways with the proven family travel expertise of Adventures by Disney, this new style of vacationing will deliver an unmatched experience that is immersive, all-inclusive and hassle-free. The Adventures by Disney river cruise departures will take guests off the beaten path in search of the culture, art and unique stories intrinsic to each European city and town visited. From revisiting scenes from the movie "The Sound of Music" in Salzburg and exploring Devin Castle in Bratislava to taking a traditional Austrian folk dancing lesson in Melk, the opportunities for exploration are seemingly endless.
River cruises also offer maximum port time in each city, arriving at dawn and departing late night. That means more time for travelers to discover the destination through guided activities and individual exploration for a completely tailored and customizable vacation experience. Eight Adventures by Disney Adventure Guides on each sailing add to the already renowned crew of AmaWaterways, creating an unprecedented level of support for guests. It's a degree of service unique to Disney, with guides serving as hosts in each destination and onboard the ship. Local experts will also be on hand at each port to bring the authentic culture to life for visiting guests.
"Celebrating 10 years in the family tourism industry, Adventures by Disney is always looking for new ways to deliver extraordinary vacation experiences that are both memorable and effortless for our guests," said Ken Potrock, senior vice president of Adventures by Disney.
"Recognizing the untapped potential and broadening appeal of the river cruising market, we worked with AmaWaterways to provide families with an immersive, personalized experience unlike anything we've presented before.
River Cruising on the Newest Vessel from AmaWaterways
Adventures by Disney guests will sail aboard the all-new, 170-passenger AmaViola, a river cruise ship that is being custom built by AmaWaterways with families in mind. New family-friendly design elements include specific room configurations, including six sets of connecting staterooms, as well as some rooms and suites that accommodate three- and four-person families, and other unique details that lend themselves to luxury family vacations. Shipboard spaces are being reimagined to provide for specially designed activities geared towards kids, teens and adults. The small size of the river cruising vessel allows for an intimate and deeply immersive cruising experience, ensuring guests' needs are not only met but exceeded.
"We are so very excited to bring the beauty of river cruising to the family market through these special sailings with Adventures by Disney," said Kristin Karst, co-owner and executive vice president of AmaWaterways. "River cruising presents a terrific opportunity for immersion into the sights, history and culture of the world's most magical destinations. We look forward to working together with Adventures by Disney to offer innovative experiences that help families create unforgettable memories."
Shipboard activities will offer something for everyone. Adults can enjoy wine tasting, music, dancing and an onboard fitness center, along with some of the finest cuisine and service available. Special Adventures by Disney activities for Junior Adventurers include activity nights, movies, karaoke, relay games, life-size chess lessons, video games and more. Teens will also find activities and themed nights created specifically for them.
Source: Cruise Industry News, April 14, 2015, "Adventures by Disney Announces River Cruise Expansion")
 

Re-posted on CruiseCrazies.com - Cruise News, Articles, Forums, Packing List, Ship Tracker, and more.
 

Please visit CruiseCrazies.com for more cruise news & articles.
 
Featured photo credit: Royal Caribbean
Photo credit: Adventures by Disney