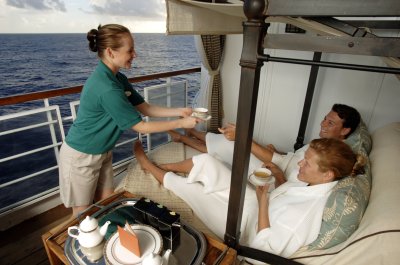 PORT CANAVERAL, Fla. – The last thing cruise vacationers intend to do is embark on a cruise vacation "fast" with a wardrobe limited to workout sweats and jogging togs. But taking a cruise also does not have to be a vacation from a fitness routine.
For vacationers determined to remain "shipshape" during a Disney Cruise Line adventure, there are ways to make a vacation a dream vacation.
On-board Action
Like the Disney Magic and Disney Wonder, the Disney Fantasy and Disney Dream have a track for jogging and walking encircling Deck 4. The Disney Fantasy and Disney Dream tracks are .4 mile per lap – just eight laps are equal to a 5K.

Goofy's Sports Deck (Deck 13 Disney Fantasy and Disney Dream) includes full-court basketball – an area that can be transformed into a mini soccer pitch or volleyball court. Can't find somebody who's "game" to join you? No problem. Also on Goofy's Sports Deck are two digital sports simulators that provide a variety of high-action virtual-game experiences putting guests into the middle of hockey, soccer, basketball, rugby, baseball and football.

The 16,000-square-foot Senses Spa & Salon (Disney Fantasy, Disney Dream) provides tranquility, pampering, an ocean view and nearly 2,500 square feet dedicated to exercise. There's state-of-the-art equipment for cardiovascular and weight training, and complimentary group classes such as yoga, Pilates, aerobics, stretching and spinning. One-on-one sessions with a personal trainer are available for a nominal fee. On the Disney Magic and Disney Wonder, Vista Spa & Salon is the place to get fit.

Active Fun at Castaway Cay
During stops at Disney's private island, Castaway Cay, sunrise yoga and a morning 5K run around the island are offered.

When it's time to go in the water, the experiences available include Castaway Ray's Stingray Adventure (swimming with stingrays), parasailing, water cycles, paddleboats, kayaks and sailboats, and a 12-acre snorkeling lagoon dotted with sunken treasures.

Guests can explore the interior of the 1,000-acre island either on bicycle or foot. For a bird's-eye view of the island and a bit of exercise, guests can climb 47 steps to the top of Castaway Cay's 40-foot-tall observation tower.

Cool down
On Castaway Cay, adults can enjoy a therapeutic massage at one of the private cabanas overlooking the ocean.

The spas on all Disney ships offer a variety of treatments and services such as massages, body wraps and facials. In the spa's Rain Forest, guests can experience the benefits of steam, heat and water therapy combined with the power of aromatherapy to relax the mind and body. On the Disney Fantasy and Disney Dream, guests can relish the calming ocean views while reclining in heated mosaic tile relaxation chairs – or lounge outside in a whirlpool hot tub on the private teak deck.

For the ultimate in luxury, the spas feature lavish spa villas, each with an indoor spa treatment suite connected to a private outdoor verandah with personal whirlpool hot tub, shower and a plush, double lounge chair.

Dining
Restaurant menus on Disney Cruise Line provide options for those looking to dine on the lighter side with vegetarian, vegan and lighter fare options. Some dinner examples include: Grilled Farm-Raised Chicken Breast, Green Asparagus, Pineapple, and Raisin Barley with Herb-Lemon jus; and Fragrant Five Spice Fish – Sautéed White Fish Fillets with a classic Chinese Five Spice Sauce over Baby Bok Choy. Quick-service locations and buffets also offer lighter fare.

Then again, by spending some time on exercise equipment, on the Deck 4 track, biking or swimming at Castaway Cay, or perhaps hooping on Deck 13, a bit of mealtime indulgence won't leave you less than "shipshape" when the vacation is over.

Source: Disney Cruise Line