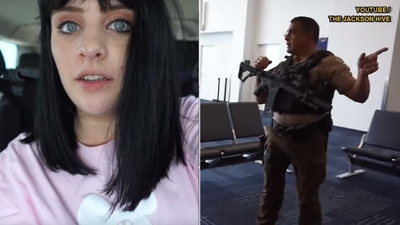 It was no fairy-tale vacation.  A mom says she was kicked off a Disney cruise by armed guards — for being too pregnant to go on the trip.
Emily Jackson, 22, was all set to embark on a family vacation with her husband, two kids, parents and siblings and was waiting for her room keys aboard the boat in Miami on Thursday, when Disney staff approached her, KMOV reported.
They told Jackson she couldn't be on the boat because she was 25 weeks pregnant — one week past the House of Mouse's policy, she said.  Jackson had flown from St. Louis for the family vacation. She said her doctor had given her permission to travel and that she hadn't heard about Disney's policy.  Her father tried to see if there was any way the family could still take their long-anticipated trip — and that's when things got ugly.
Video that Jackson posted to her YouTube vlog "The Jackson Hive" shows an armed guard telling the mom to "Wait outside. Step outside" as he leads the family to a door.
The guard scared her two kids, smirking and laughing as he ushered them out while toting an AR-15 semi-automatic rifle, Jackson said.  "It was just terrible. They had the guy with a gun following us, they had the K9 unit," she told the station.
Jackson and her family — including two kids under the age of 2 — had to wait outside in the heat for almost two hours while crews tried to find their luggage, she says in the video.
A Disney spokesperson said the family at had least nine pieces of luggage — some of which had already made it on board — and that it took a while to find their suitcases.  Footage from another video about the ordeal shows the family sporting custom-made "Keep calm and enjoy your Disney vacation" shirts.  "I felt so bad because I felt like it was my fault that everybody couldn't go," Jackson says in the footage.  Jackson said her issue isn't with the policy but "how they treated us after that point."
"I'm mad because of how they treated me and my children … The fact that they felt they needed AR-15s to escort us out."
The guards at the port are Miami-Dade cops and are outfitted in police force uniforms that include the semi-automatic rifles, a Disney spokesperson said.  The officers are "responsible for security at the port and handled the situation as they felt appropriate given the guest's actions," Disney Cruise Line spokesperson Cynthia Martinez said in a statement.
"While we understand the guests' disappointment with not being able to board the ship, for health and safety reasons, our policy does not allow women who have reached the 24th week of pregnancy to travel," Martinez said, adding that this policy is in line with that of other cruise lines.
Jackson said Disney offered to reimburse their tickets for the cruise but not their flights to and from St. Louis.
By Tamar Lapin, New York Post
Re-posted on CruiseCrazies.com - Cruise News, Articles, Forums, Packing List, Ship Tracker, and more
For more cruise news and articles go to https://www.cruisecrazies.com