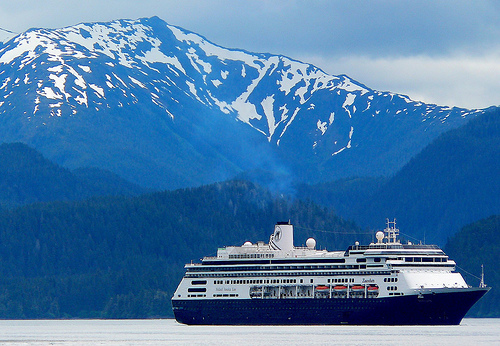 SEATTLE, July 25, 2012 /PRNewswire via COMTEX/ -- For the 2013 Alaska cruise season, Holland America Line is increasing its presence in the region with more departures and more guests than in previous years.
Although the number of Holland America ships deployed in Alaska will remain at seven -- the same as 2012 -- ms Amsterdam will double its departures on new seven-day roundtrip sailings from Vancouver, British Columbia, Canada. As a result, Alaska-season departures will increase 8.5 percent and guest capacity will increase 6 percent over 2012.
Plus, Early Advantage savings feature complimentary upgrades and free and reduced fares for third or fourth guests who share the same stateroom on select sailings. By planning ahead, a family of four can take advantage of fares on select departure dates starting at $699 per person for the first and second guest in a stateroom, and the third and fourth sailing free. Taxes are additional.
"Increasing our capacity in Alaska means that Holland America Line will offer nearly 1.6 million passenger days in the 2013 season," said Richard Meadows, executive vice president, marketing, sales and guest programs. "These itineraries have always been among our most popular, and Amsterdam's new seven day departures will allow us to bring more guests to Alaska and show off the natural beauty of this part of the world. We also encourage travelers to book early and enjoy greater benefits with Early Advantage savings."
When the 1,380-guest Amsterdam begins its Alaska season May 24, the ship will sail a series of 17 seven-day Inside Passage voyages. The Vancouver sailings feature port calls at Juneau, Skagway, and Ketchikan, Alaska, as well as scenic cruising throughout Glacier Bay National Park or Tracy Arm Fjord/Twin Sawyer glaciers.
For the 2013 Alaska cruise season, Holland America Line also will feature ms Zaandam and ms Statendam each sailing on 18 Gulf of Alaska departures from Vancouver. Statendam and Zaandam also will sail four total Inside Passage routes, along with Amsterdam (17), ms Volendam (21) and ms Zuiderdam (20). In addition, ms Oosterdam and ms Westerdam are slated to sail 21 and 20, respectively, seven-night voyages from Seattle, Wash.
Seven-day Alaskan Explorer Voyages Sail Roundtrip from Seattle Starting May 5 and 11, respectively, the 1,916-guest Oosterdam (Sunday departures) and 1,916-guest Westerdam (Saturday departures) will sail 21 and 20 seven-day Alaskan Explorer voyages departing roundtrip from Seattle. The itinerary features port calls at Juneau, Sitka and Ketchikan, Alaska; Victoria, British Columbia; and a scenic cruising experience at Tracy Arm Fjord/Twin Sawyer glaciers or Glacier Bay National Park.
Seven-day Inside Passage Voyages Sail Roundtrip from Vancouver Five Holland America Line ships - Amsterdam, Statendam, Volendam, Zaandam and Zuiderdam - will sail roundtrip from Vancouver on a series of seven-day Inside Passage voyages. The 1,432-guest Volendam (Wednesday departures) and 1,916-guest Zuiderdam (Saturday departures) sail a total of 41 voyages from May 1 to September 21. During those voyages guests will visit Juneau, Skagway, Ketchikan, Glacier Bay National Park and make a shore excursion call at Tracy Arm Fjord.
Four additional Inside Passage cruises sail aboard Statendam and Zaandam. Statendam departs Vancouver May 5 and 12, and September 22. Zaandam departs May 5.
During embarkation for the Seattle voyages, a ranger from the Klondike Gold Rush National Historic Park will be available to talk to guests about the Klondike parks and other national parks located throughout the Inside Passage. On all Glacier Bay sailings, a park ranger and native interpreters from the Huna people board the ships to explain the origins of their tribe and cultural traditions.
Seven-Day Glacier Discovery Voyages Sail from Vancouver to Seward (or reverse) The 1,260-guest Statendam and 1,432-guest Zaandam once again will provide the only mid-sized cruise ship experience available in the Gulf of Alaska. Glacier Discovery cruises sail between Vancouver and Seward (Anchorage) with Sunday departures May 13 through September 16. The itinerary features port calls at Ketchikan, Juneau, Skagway, a day at sea in the Gulf of Alaska and scenic cruising through the Inside Passage. Each ship will sail 18 voyages and include a visit to Glacier Bay.
CruiseTours and Exclusive Shore Adventures Provide More Discovery of Alaska Added capacity and departures also will send more guests on the line's CruiseTours, which combine a three-, four- or seven-day Inside Passage cruise with in-depth overland tours to the Yukon and Alaska's interior. Offering up to three days at Denali National Park for wildlife viewing and spectacular scenery, CruiseTours are designed to highlight the best of Alaska's wilderness, wildlife, native culture and history.
Holland America Line offers more than 250 optional shore excursions in conjunction with its Alaska cruises. While in port, guests can optimize their Alaskan experience with excursions that involve everything from adventure and wildlife watching to history, art and cuisine. Exclusive Cruise with Purpose shore excursions turn vacation time into an exciting give-and-take opportunity -- combining traditional tour content with a chance to make a difference to society, the environment, animal welfare or economic growth.
Guests also can enjoy active excursions such as sea kayaking, fly or sport fishing, dog sledding and viewing eagles, sea otters and whales. Other exciting excursions feature such attractions as the White Pass Summit Scenic Railway from Skagway, Russian heritage in Sitka, a photography tour in Haines and a five-course tasting meal featuring Alaska seafood prepared by a local chef in Ketchikan.
Popular seven-day Alaska Inside Passage cruises from Seattle, Wash., or Vancouver, British Columbia, start at $699 for inside staterooms or $999 for verandahs, with free upgrades and free or reduced third/fourth fares on select departures available during Holland America Line's Early Advantage savings promotion.