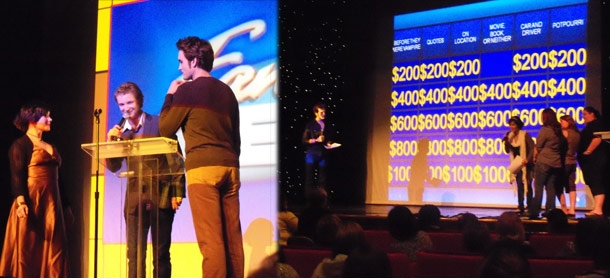 The stars of Twilight are going cruisin'!
Twilight heart-throbs Charlie Bewley (Demetri, the mysteriously charming vampire of the Volturi), Chaske Spencer (Sam Uley, the hunky leader of the Wolf Pack) and Michael Welch (Mike Newton, the handsome "boy next door" besotted with Bella) will be on board for the 2011 Mediterranean Twilight Cruise.
Bewley, Spencer and Welch will be on board for photo shoots, autograph sessions and a Q and A. Back by popular demand The Immortals, a cast of tribute artists whose uncanny resemblance to the beloved Cullens thrilled passengers on the first Twi Cruise. This 10 day tribute to all things Twilight will include a Monte Carlo-themed Prom night, Costume Contest, Trivia Contests, Games including Twilight Wheel of Fortune, Karaoke, Talent Show and a Charity Auction with proceeds benefitting the Quileute Tribal Schools in La Push.
The 2011 Mediterranean Twi Cruise sets sail round-trip from Rome (Civitavecchia) to Livorno for Florence and Pisa; Monte Carlo; Barcelona; Palma de Mallorca; Tunisia; Palermo; Sicily and Naples for Pompei and Capri. The date for this gathering of Twihards: June 20th – 30th, 2011 aboard Holland America's Noordam.
Cruise fares start at $1539 per person based on double occupancy for an inside cabin. A cabin share program is available for solo travelers who wish to share a cabin with another Twi Cruiser.
Following the cruise Twilight fans will be going on tour to Volterra the inspiration for Stephenie Meyer's ruling vampire monarchy, the Volturi. The tour will also visit Montepulciano where "New Moon" was filmed. Rates are $749 per person, double occupancy.
This is a private event and must be booked through Cruises Cruises Cruises, Inc. to attend the Twi Cruise events. The Event Fee is $250.
The 2011 Mediterranean Twi Cruise combines the best of three worlds: the ever-popular Twilight Saga that has touched the hearts of millions worldwide; exciting ports in the sunny Mediterranean; and a luxurious cruise ship with fine food and service and sparkling entertainment.
Who'd have thought that a vampire, a wolf and a human would ever end up in the same boat?
About Holland America Line [a division of Carnival Corporation and plc (NYSE: CCL and CUK)]
Holland America Line's fleet of 15 ships offers more than 500 cruises to 354 ports in 98 countries, territories or dependencies. Two- to 110-day itineraries visit all seven continents and highlights include Antarctica, South America, Australia/New Zealand and Asia voyages; a Grand World Voyage; and popular sailings to ports in the Caribbean, Bermuda, Alaska, Mexico, Canada/New England, Europe and Panama Canal.
Fleetwide, the company features Signature of Excellence enhancements, a commitment totaling more than $525 million, that showcase the Culinary Arts Center presented by Food & Wine magazine — a state-of-the-art onboard show kitchen where more than 60 celebrated guest chefs and culinary experts provide cooking demonstrations and classes — Explorations Cafe powered by The New York Times, Digital Workshop powered by Windows, teens-only activity areas and all new stateroom amenities highlighted by flat-panel TVs and plush Euro-top Mariner's Dream Beds.
World's Leading Cruise Lines
Holland America Line is a proud member of World's Leading Cruise Lines. Our exclusive alliance also includes Carnival Cruise Lines, Cunard Line, Princess Cruises, Costa Cruises and The Yachts of Seabourn. Sharing a passion to please each guest and a commitment to quality and value, World's Leading Cruise Lines inspires people to discover their best vacation experience. Together, we offer a variety of exciting and enriching cruise vacations to the world's most desirable destinations.