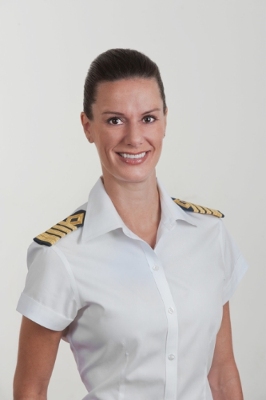 For the first time in the cruise industry – and in Celebrity Cruises' history – an American female will take the helm of a mega-ton cruise ship.
San Francisco native Kate McCue will command Celebrity Summit, sailing between the eastern United States and Bermuda. As Captain, she will be responsible for the safe navigation of the ship and the onboard experience of its 2,158 guests and 952 crew members.
Celebrity said it has elevated McCue to the position of Captain based on her 15 years of successful experience and leadership in the maritime industry. During her tenure, McCue has managed ship logistics while sailing worldwide itineraries, including Europe, Asia, Australia, the Caribbean, the Pacific Northwest and Alaska, and along the Panama Canal. Captain McCue has also served as a maritime leader while sailing several transatlantic and repositioning cruises, and played a notable role in the revitalization of ships in Singapore.
A graduate of California State University's California Maritime Academy, Captain McCue has held a variety of roles in the maritime industry, beginning as a cadet and deck officer, then working through a series of successively more responsible positions to her most recent role as Master Mariner with Royal Caribbean International. McCue has earned numerous certifications in a variety of areas pertaining to leadership navigation, ship management and security.
McCue will begin her new role on Celebrity Summit in August of 2015.
Source: Travel Agent Central/Newswire, June 14, 2015 ("Celebrity Cruise Names Kate McCue Industry's First-Ever American Female Captain")
Re-posted on CruiseCrazies.com - Cruise News, Articles, Forums, Packing List, Ship Tracker, and more.
Please visit CruiseCrazies.com for more cruise news & articles.
Featured photo credit: prnewswire dot com