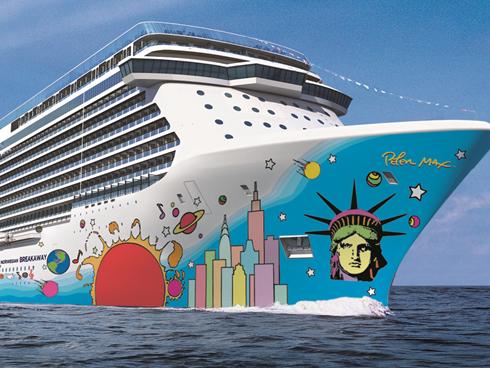 Call it Peter Max's largest canvas ever.
Norwegian Cruise Line today released the first image of the Max-designed hull art planned for its next ship, the Norwegian Breakaway -- a colorful mixture of New York- and cosmic-themed imagery that will cover 40,000 square feet of the vessel's exterior.
"Norwegian Breakaway is New York's ship, and this colorful artwork by Peter Max will make the ship an instant icon," Norwegian CEO Kevin Sheehan says in a statement.
Debuting in April 2013, the 4,000-passenger Norwegian Breakaway is scheduled to sail year-round out of New York to such destinations as Bermuda and the Bahamas. At 144,000 tons, it'll be the largest ship ever to be based year-round in the city.
Also based in New York, Max has tackled large "canvases" before, including a giant World's Fair mural and the body of a Boeing 777 airplane that flew for Continental.
Currently under construction at a shipyard in Germany, the Norwegian Breakaway was named by a USA TODAY reader in a contest held here at the Cruise Log last year.
By Gene Sloan, USA Today