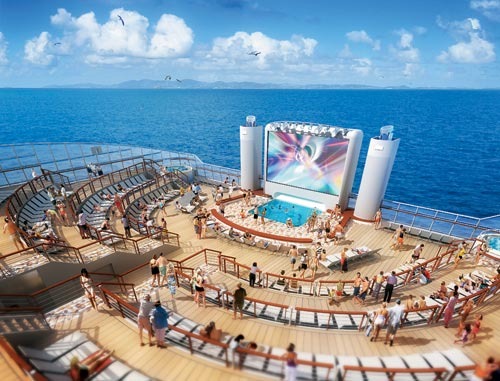 It's time for a short land vacation so taking over this week are the Ports and Bows backup team of Bob and Nancy Dunn, reporting on their journey aboard the Norwegian Epic.
Two years after a somewhat controversial arrival into the world's fleet of ocean liners, the Norwegian Epic still dances the waters of the Caribbean and Europe to the same tune: Entertainment is king. At the same time, it's clear that food is also part of the ship's royalty.
So if you're searching for a reason why the Epic is as popular as it is - sailing weekly trips to St. Maarten, St. Thomas and Nassau at 85-to 100-per-cent capacity, according to some Norwegian sources - look no further. The combination of simultaneous, multiple venues featuring topflight entertainers and specialty restaurants that are affordable and superb seem to be the foundation for success.
Particularly with the Epic and the three new ships coming, Norwegian has defined its market. It wants Generation 3, or three generations together - grandparents, parents and kids - and the styles of these ships are an indication of how aggressive Norwegian is in that pursuit.
It begins with the Epic, a ship often regarded like that new in-law you thought would never last two Christmases. This Christmas was the big ship's third, and if you go through it looking for flaws or things you don't like, you can certainly find them. But does anybody really care, or are the flaws simply dwarfed by the good features?
Right from the start, it had an unprecedented cast of entertainers. Blue Man Group and Legends In Concert, acts known far beyond their Las Vegas roots, share the stage in the Epic Theater with alternating, nightly performances. Seeing either act in Vegas costs between $70 and $92 a ticket. On the ship, seats of comparable quality are free.
While that's happening, passengers have the option of dining at Cirque Dreams and Dinner (eating with the flying acrobats) at the Spiegel Tent; being entertained at Fat Cats Jazz and Blues Club by a long-time New York bluesman (Slam Allen) who is moving to the new ship Breakaway; or contributing to the coffers of duelling pianists at Howl at The Moon.
To cater to kids, the Epic has always featured Nickelodeon characters Dora The Explorer and SpongeBob SquarePants to enhance a kids' daytime program that many ships have.
While all major lines feature specialty (pay) restaurants, Norwegian's are more affordable, from $15 at La Cucina to $25 at Cagney's Steak house and, from our experiences, they're a cut or two above dining room quality.
The Epic's flaws were well-publicized in 2010, none more so than the unusual configuration of stateroom "facilities" with the glassed-in shower on one side of the cabin door, the glassed-in toilet on the other side and the basin off by itself. While still something of a love- hate, it's mostly gone away.
The Epic carries between 4,200 and 5,100 passengers, depending on which Norwegian version you believe. It will remain, and will likely always be, bigger than the fleet's new ships (an order for a second Epic was cancelled) and it will always be a one-of-a-kind.
In the end, maybe that's part of what makes the Epic so endearing.
By Phil Reimer, Vancouver Sun