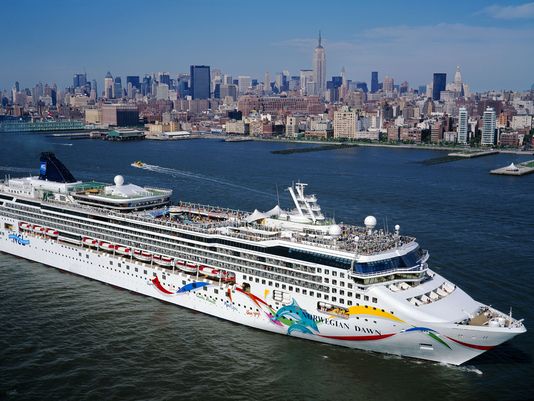 A cruise ship carrying more than 2,000 passengers ran aground late Tuesday in Bermuda after losing power.
Norwegian Cruise Line's 12-year-old Norwegian Dawn had just pulled out of Bermuda's King's Wharf when the incident occurred. The ship was returning to its home port of Boston after a three-day stay.
"Norwegian Dawn temporarily lost power as the ship was departing King's Wharf, Bermuda. The ship's propulsion was affected and, at which time, the vessel made contact with the channel bed," the line says in a statement sent to USA TODAY
Norwegian says all passengers and crew on board the vessel are safe. Power is back up on the ship and all on-board services are continuing as scheduled, according to the statement.
"The ship's team is currently assessing the situation, and we will provide more information as it becomes available," Norwegian says.
The captain of the vessel told passengers late tonight that the ship wouldn't be moving until at least the morning, according to a post at a popular cruise message board.
One of 13 vessels in the Norwegian fleet, the Norwegian Dawn sails weekly to Bermuda from Boston from May through October. Built in 2002, it can carry 2,340 passenger at double occupancy and sails with a crew of more than 1,000.
The Norwegian Dawn has had several power-related incidents over the years, including a power outage in 2013 that left it dead in the water for nearly two hours. The ship was heading to Bermuda at the time. A ship-wide power outage in 2009 while the vessel was heading to Miami left it without running water, air conditioning or working toilets.
By Gene Sloan, USA TODAY
For more cruise news & articles go to http://www.cruisecrazies.com/index.html
Re-posted on CruiseCrazies.com - Cruise News, Articles, Forums, Packing List, Ship Tracker, and more