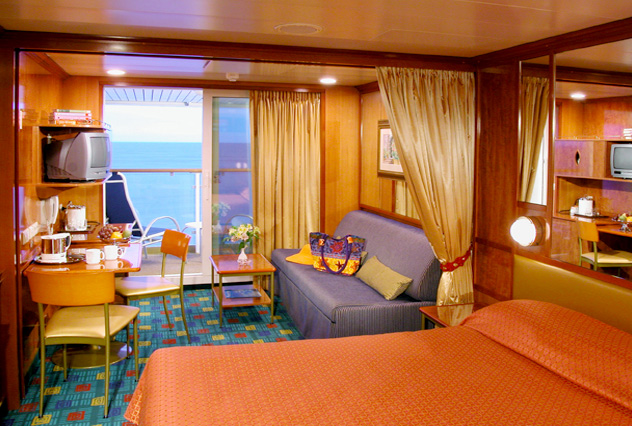 Norwegian Cruise Line will add 58 new staterooms and suites to the Norwegian Dawn when it enters dry dock in May. The 28 new suites include two categories of family suites that can sleep up to six, executives announced during a Feb. 23 conference call with travel agents and press.
There will be 14 Family Suites (category SJ) measuring 408 to 452 square feet, while 10 Family Suites with Balcony (category SD) will measure 409 to 495 square feet. The family suites will be located on a high deck, near the pool, and feature a larger bathroom and more storage space.
There will be four Deluxe Owner's Suites (category SA) added right below the bridge. They will measure 667 to 732 square feet. Also added will be 30 inside staterooms measuring 142 to 174 square feet.
The new accommodations will take the current location of the Spinnaker Lounge and cinema, which will be upgraded and moved to a spot that executives said improve the flow of the ship.
Though the dry-dock project is in May, finishing work on the new accommodations will continue until Sept. 16. They are on sale now, however, for departures after Sept. 16.
In other news, NCL said a new built-in air purifying system was installed last week in Norwegian Epic, near the casino area, which some guests complain is too smoky. The built-in system replaces floor models.
Also, Executive Vice President Andy Stuart said the company is working to install an online system that will allow passengers to pre-book restaurant reservations. He said he expects the roll-out of the new system to start in April.
In other fleetwide additions, executives said the company now offers Welcome Back Stations near the gangways on port days with cool face towels (warm ones in Alaska), complimentary water and a place to relax.
The company also now offers a Dear Hotel Director suggestion box at the front desk for guests with complaints or comments. A sign also lists the phone extension for the hotel director's office. The company promises feedback or a response within 24 hours.