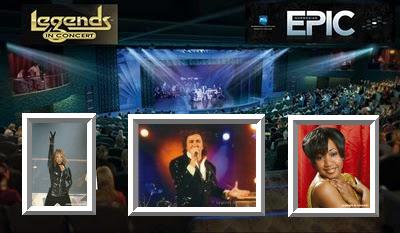 Norwegian Cruise Line announced that three new Legends in Concert tribute artists will make their debut on Norwegian Epic's May 18, 2011 Western Mediterranean sailing from Barcelona, Spain, where the ship will homeport until October 23, 2011. The three Legends will perform on board through November 5, 2011 and represent some of the world's most famous entertainers Whitney Houston, Elton John and Shakira. A staple on the Las Vegas' center strip for over 25 years, Legends in Concert is known as the pioneer of live tribute shows and has assembled the greatest collection of live tribute artists and celebrity look-alikes in show business.
"Legends in Concert has been one of the most popular and memorable shows aboard Norwegian Epic because the performers are so dynamic and authentic. We keep it fresh and exciting by changing the performers every four months," said Kevin Sheehan, Norwegian Cruise Line's chief executive officer. "We are pleased to bring these new Legends performers to Norwegian Epic for her inaugural season in Europe."
Jazmine Hyytia, a native of Long Island, New York, portrays Whitney Houston and draws her musical inspiration from her Cuban heritage while speaking and singing in both English and Spanish. Hyytia started her musical career on the European music scene including performances in hundreds of nightclubs, several European summer festivals and multiple radio and television appearances. European success led to Hyytia's 1998 debut within the Latin-American community by singing in eight episodes of the popular Telemundo television show, "Sueños De Fama."
"The entertainers appearing on Norwegian Epic for the European summer itineraries performing as Elton John, Whitney Houston and Shakira were specifically selected because of their international appeal and diverse musical styles," said Brian Brigner, chief operating officer for "Legends" producer, On Stage Entertainment. "They are three of the highest quality tribute acts in the world, and they will be joined by the always electrifying Legends singers and dancers, and a rockin' live band."
Paying tribute to the "Rocket Man," Stephen Sorrentino embodies Elton John, the bespectacled Englishman known for a number of international musical hits, along with his outlandish attire. Born and bred in New York, Sorrentino has trained at the Metropolitan Opera and later studied comedy with The Second City in Chicago. He is fluent in all instruments, especially voice. Among his repertoire of Elton John songs are "Pinball Wizard," "Crocodile Rock," "Can You Feel the Love Tonight?" and the rousing "Saturday Night."
Ines Zak, a native of Mexico, who will portray Shakira, has been a singer and an entertainer all her life. In Mexico, she performed on radio and television and as the opening act for Mexican legends such as La Prieta Linda and La Sonora Santanera, singing also in prestigious places such as the National Auditorium of Mexico and the Arena Mexico. In the United States, she was proud to perform as part of the 21st Century Platters with the Pittsburgh Symphony Orchestra and Marvin Hamlisch and as part of Andrea Bocelli's choir for his performance at MGM Arena in Las Vegas. Residing in Las Vegas since 2000, she has also performed the Mexican and American National Anthems for televised sporting events.
Legends in Concert is a live musical celebration featuring the world's greatest celebrity tribute artists. Legends in Concert on Norwegian Epic features three celebrity tribute performers taking the stage in the Epic Theater for six 45-minute shows over three days during a seven-day cruise. In addition, a Legends "Unplugged" show is performed on three additional nights in the Manhattan Room, the ship's New York-inspired supper club, providing an unprecedented dining and entertainment experience. Past tribute performers on board Norwegian Epic have included Madonna, Elvis, Tina Turner, Rod Stewart, Michael Jackson, Britney Spears, Aretha Franklin, Neil Diamond and Janet Jackson.
Norwegian Epic sails seven-day Western Mediterranean cruises from Barcelona, Spain from May 22 through October 23, 2011 calling on Florence/Pisa (Livorno); Rome (Civitavecchia); and Naples, Italy; and Palma, Majorca, Spain.
Legends in Concert
Internationally acclaimed Legends in Concert is known as the pioneer of live celebrity impersonator shows and possesses the greatest collection of celebrity impersonators ever assembled. Featuring live concert shows of famous musicians and celebrities of yesterday and today with concert venues in Myrtle Beach, Branson, Las Vegas, Seattle, Atlantic City, Foxwoods Resort Casino and Coushatta Casino. The live impersonator show with music legends such as Elvis Presley, The Blues Brothers, Garth Brooks, Tim McGraw, Rod Stewart, Tina Turner, Cher, Madonna, Michael Jackson and many more celebrities that appeal to music fans of all ages, makes Legends in Concert a must see live concert show. With an always-evolving cast of legendary superstars with original choreography and extravagant costumes, Legends in Concert is the original and largest live celebrity tribute show in the world. For more information, visit legendsinconcert.com.
About Norwegian Cruise Line
Norwegian Cruise Line is the innovator in cruise travel with a 44-year history of breaking the boundaries of traditional cruising, most notably with the introduction of Freestyle Cruising which has revolutionized the industry by allowing guests more freedom and flexibility.
Today, Norwegian has 11 purpose-built Freestyle Cruising ships, providing guests the opportunity to enjoy a relaxed cruise vacation on some of the newest and most contemporary ships at sea. The Company contracted for two 4,000-berth vessels for delivery in spring 2013 and spring 2014.
Norwegian's largest and most innovative Freestyle Cruising ship, Norwegian Epic, debuted in June 2010. Norwegian Cruise Line is the official cruise line of Blue Man Group, debuting for the first time at sea on Norwegian Epic, as well as the official cruise line of Legends in Concert, Second City® Comedy Troupe, Howl at the Moon Dueling Pianos, Gibson Guitar, and Nickelodeon, the number-one entertainment brand for kids. Cirque Dreams" & Dinner is also featured on board Norwegian Epic as the first show of its kind at sea under a big top.