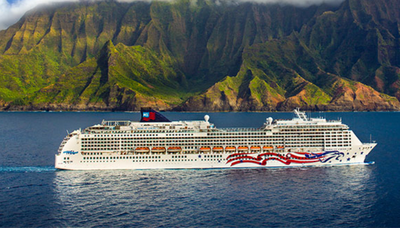 The Big Island of Hawaii is back on the schedule at Norwegian Cruise Line. 
The Miami-based line on Friday said its 2,138-passenger Pride of America would resume weekly calls at the island next week after skipping it for much of the past month due to the recently intensified eruption of the Kilauea volcano.
In a statement sent to USA TODAY, Norwegian said the decision to return followed a "detailed evaluation and consultation with authorities and experts" on the island. 
"As we have always said, Hawaii is an incredible destination," the statement said. "We have visited its ports for well over a decade, and we are very happy to be returning." 
Based in Hawaii, Pride of America operates week-long Hawaiian Island voyages out of Honolulu that begin on Saturdays. The trips normally include stops at two ports on the Big Island — Kona and Hilo — as well as calls on Maui and Kauai. In recent weeks, the ship has been replacing the Big Island calls with extra time on the Hawaiian islands of Oahu and Maui. 
Norwegian's announcement comes just days after it said it was canceling Big Island calls until further notice. 
The Honolulu Star-Advertiser has reported that Hawaii's governor made the return of Pride of America to the Big Island a top priority. Tourism to the Big Island has dropped significantly in recent weeks even though Hawaii officials have argued there's no reason tourists should stay away. Much of the island is unaffected by the volcano, they say. 
Still, one of the biggest attractions on the Big Island for cruisers, Hawaii Volcanoes National Park, has been mostly closed to visitors since early May due to ongoing seismic activity, lava flows and the presence of corrosive volcanic ash.  
Pride of America is the only major cruise vessel based in Hawaii year-round, and it accounts for the majority of cruise visits to the Big Island. Other major lines only send ships to the destination sporadically. While Hawaii is a big resort destination, it's not a big draw for cruise ships relative to such destinations as the Caribbean and Alaska. 
Kilauea has been erupting nearly continuously since 1983 but not always at the level of recent weeks.
In its statement, Norwegian said the safety and security of its customers and crew are its first priority, and it would continue to monitor and evaluate the situation. 
By Gene Sloan, USA Today
Re-posted on CruiseCrazies.com - Cruise News, Articles, Forums, Packing List, Ship Tracker, and more
For more cruise news and articles go to https://www.cruisecrazies.com