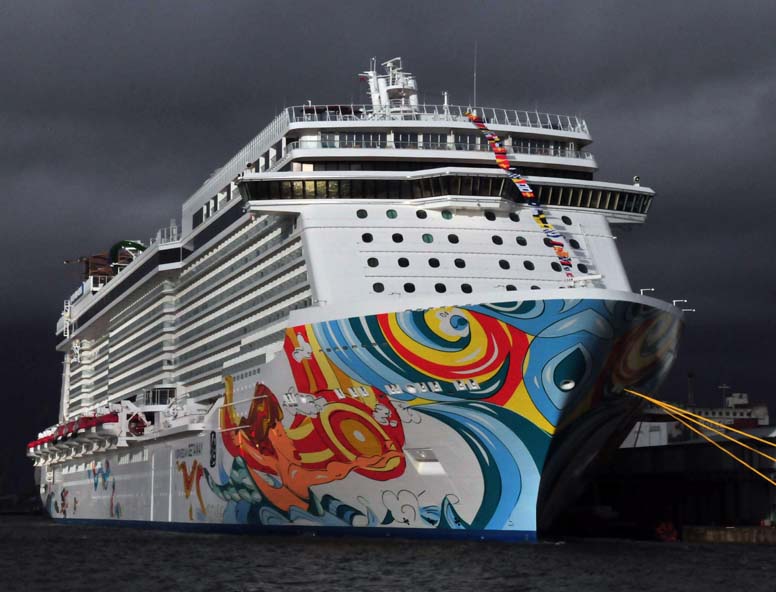 The new Norwegain Getaway is all the talk among cruise fanatics, and the following is a review of one travel writer's brief glimpse of the new ship now docked in New York. I, for one, can't wait for my turn!
I was among the lucky ducks who got a sneak peek at the brand-new Norwegian Getaway this week, as she is docked in New York's icy Hudson. Nearly identical to sister ship, Norwegian Breakaway, which debuted in October 2013, the 4,028-passenger Norwegian Getaway boasts many of the same great features, but with her own distinct personality. From Breakaway-class favorites to exclusive features, here are my top picks of what to look forward to:
The Illusionarium is an atmospheric den of mystery that is part supper club, part magic show. You'll be entertained by magicians, illusionists, and mentalists, while dining on a delectable surf and turf.
Kids are served their own favorites of chicken nuggets and French fries, mac and cheese, and a whimsically decorated banana cupcake for dessert!
Dine at Ocean Blue by Geoffrey Zakarian, Ocean Blue on The Waterfront, or The Raw Bar — three incredible seafood dining experiences. Then, top it off with a sweet treat from Carlo's Bake Shop by Master Baker Buddy Valastro.
Music fans will lose themselves at The Grammy Experience, a Hard Rock Café-style exhibit of memorabilia from Grammy Award–winning artists. Check out the seductive velvet gown worn by Whitney Houston, for example. And, expect performances by Grammy winners as well on special sailings.
Exclusively on Norwegian Getaway is the seven-time Tony Award–nominated Legally Blonde: The Musical, which will no doubt prove to be an immediate crowd pleaser as the audience falls in love, once again, with sorority girl Elle Woods.
For now, Norwegian Getaway is in New York, transforming itself into the Bud Light Hotel for this weekend's Super Bowl.
Even in the frigid New York temperatures, visitors to the ship could envision the wild popularity of the SpongeBob-inspired Kid's Aqua Park and the innovative Waterfront line-up of restaurants and watering holes.
After the week of partying and big concerts by big-name acts like the Foo Fighters and Run DMC, Norwegian Getaway will start the journey to her homeport of Miami. 

And we can't wait till she gets here!
By Judi Cuervo, Porthole Magazine ("Top 5 Things to Look Forward to Aboard Norwgian Getaway," Jan. 29, 2014)
For more cruise news & articles go to http://www.cruisecrazies.com/index.html
Re-posted on CruiseCrazies.com - Cruise News, Articles, Forums, Packing List, Ship Tracker, and more
Photo credit: MaritimeMatters.com